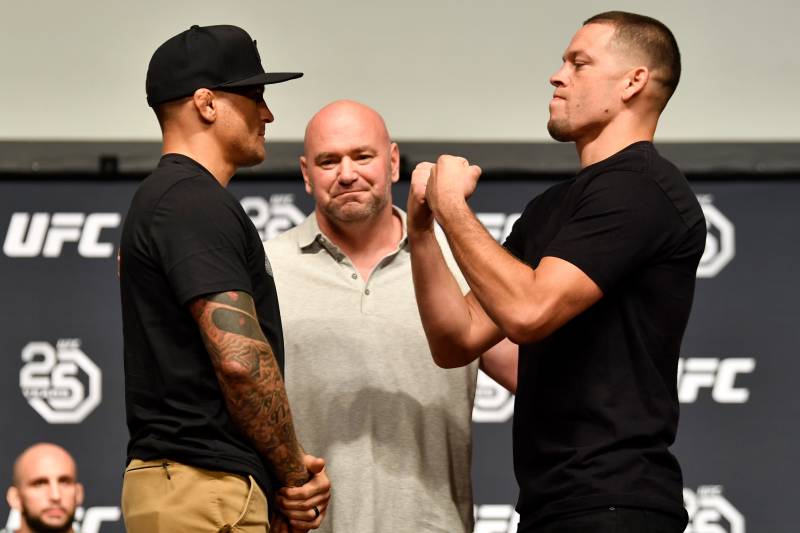 Dustin Poirier has offered his side of events as to why his contest with Nate Diaz last year was cancelled.
The pair were set to meet at UFC 230 in New York last November, when about a month before, it was revealed the bout was taken off the card. For a while, there was some serious confusion as to what had exactly happened, with both Diaz and Poirier pointing the finger at the other man as the reason.
This morning, Poirier took to his social media to offer what happened from his perspective without any anger or bias.
"He wanted it he just couldn't come to terms with UFC," Poirier said. "They offered us the main event at MSG but he would only agree if it was on his terms. I was tired of playing games with the guy and that's when I decided to address a injury I had been dealing with. Now you all know."
Poirier also took a moment to (somewhat) apologise for making angry remarks at Diaz last week when the Stockton fighter announced he'd been informed of elevated levels in his system. Diaz has been completely exonerated by USADA.
"And thats the whole truth with me and Nate situation …. also I jumped the gun when news came out that he failed a test. He's always been a guy who pushed for clean eating and clean sport. I shouldn't have [made accusations]. Doesn't change the fact that I still want to beat his ass."
He wanted it he just couldn't come to terms with ufc. They offered us the main event at msg but he would only agree if it was on his terms. I was tired of playing games with the guy and that's when i decided to address a injury I had been dealing with. Now you all know#facts https://t.co/OU50fYP0pB

— The Diamond (@DustinPoirier) October 28, 2019
And thats the whole truth with me and Nate situation ….also I jumped the gun when news came out that he failed a test. He's always been a guy who pushed for clean eating and clean sport. I shouldn't have. Doesn't change the fact that I still want to beat his ass

— The Diamond (@DustinPoirier) October 28, 2019
–
Comments
comments