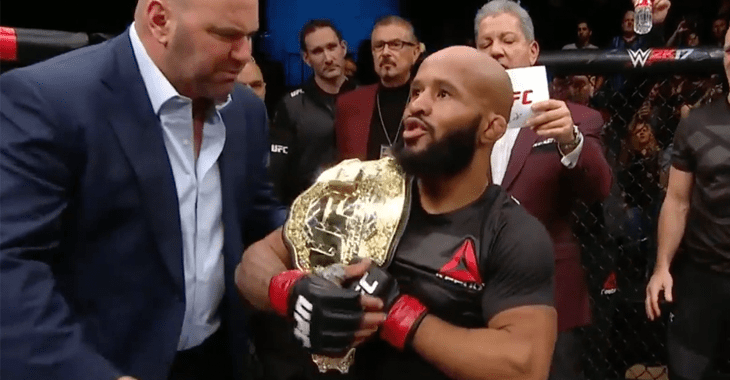 UFC president Dana White insists that he hasn't had any second thoughts regarding the 'trade' he conducted with ONE Championship a year ago yesterday in which the two companies agreed to a switch between the then-undefeated Ben Askren and former UFC flyweight champion (and holder of the record of most consecutive title defences in history) Demetrious Johnson.
Askren was defeated for the second fight in succession last weekend in Singapore after Demian Maia coaxed a third-round submission from the former Olympian just months after suffering the quickest KO in UFC history when he was kneed into unconsciousness by Jorge Masvidal five seconds into their UFC 239 bout in the summer.
But despite his less than ideal start to his career with the UFC, Dana White has reiterated that he has zero regrets in conducting the switch. Writing in a response to a fan on Instagram, White said that the trade had worked out spectacularly for him when you consider that he got the following: A spectacular five-second KO from Jorge Masvidal which essentially paved the way for next month's 'BMF' bout in Madison Square Garden between Masvidal and Nate Diaz.
See below courtesy of Reddit user MGuy2 and BJPenn.com.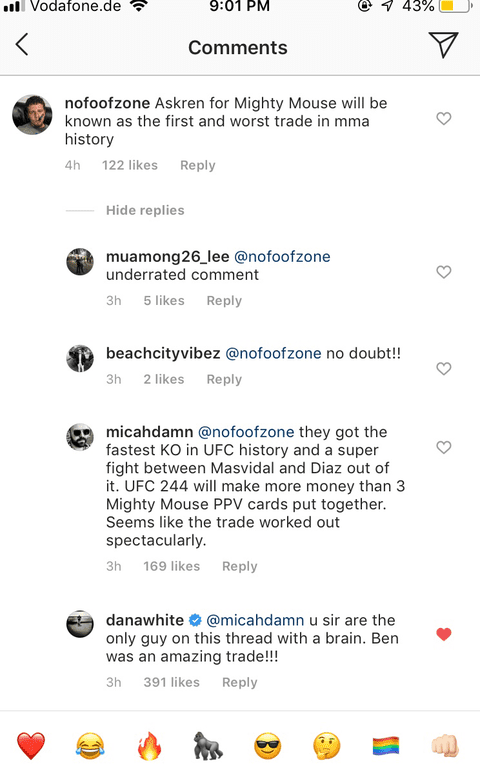 Now, White had admitted prior to Askren's arrival in the UFC that he wasn't the biggest fan of the American welterweight but their relationship appears to have cooled now that White is Askren's promoter but can these statements be seen as a thinly-veiled shot? Perhaps.
Johnson, meanwhile, has suffered none of the misfortune which has afflicted Askren (or fellow new signings at ONE Eddie Alvarez and Sage Northcutt) by winning all three of his fights thus far in his new home.
Comments
comments