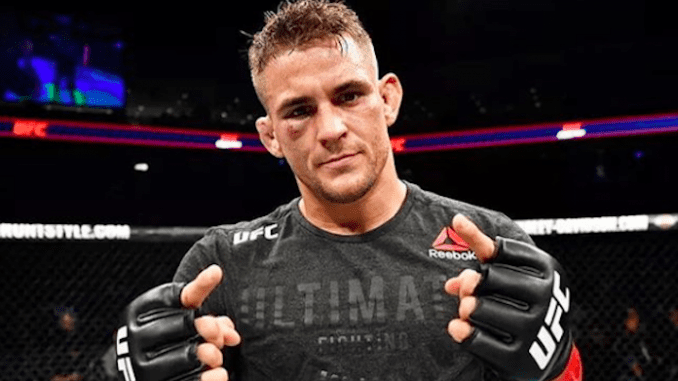 When Dustin Poirier first fought Conor McGregor, he did so with anger as one of his major motivations.
Poirier had been wound up by weeks of talking from the Irishman, who repeatedly called the then-featherweight "pea-head" and promised to knock him out in the first round. In the end, that's exactly what happened, with a short left behind the ear bringing an end to Poirier's evening.
Since then, both men have left lightweight and gone on to write further chapters of their own legacy, which continues on January 23 when they meet for round two. This time, Poirier says, the animosity is gone and the rage he felt last time round has subsided.
"He was obviously a great fighter in finishing a bunch of guys before me in his UFC career, but at this point we're both so much more established and have so much more experience, just more mature fighters, and I think you get a completely different fight here," Poirier said, speaking to MMAJunkie. "I was emotional in the first one. I wanted to hurt the guy. This time I just want to outsmart him, just want to beat him. This is business. This isn't any ill will towards the guy.
"When I was younger, I used to fight with a lot of emotion. This isn't the same thing for me. This isn't about getting even for me. This isn't like a revenge type of thing for me. This is about moving my career forward, about putting my family in a better spot. It's not trying to get back a guy who got me. This is just business."
That said, Poirier isn't coming just to make up the numbers. He believes there's a route to victory, and says the fight will likely flaunt skills from both men far beyond the punches that most expect.
"I'm sure he's always evolving and working to get better," Poirier said. "I think people, because he's been submitted, he's such a big puncher, people underestimate his ground game. I think his jiu-jitsu and his grappling is better than people give him credit for. I really do. I'm not underestimating this guy in any aspect of mixed martial arts. I'm expecting him to come out as a mixed martial artist, not a boxer, not a one-puncher. He's coming to fight, and so am I."
Comments
comments