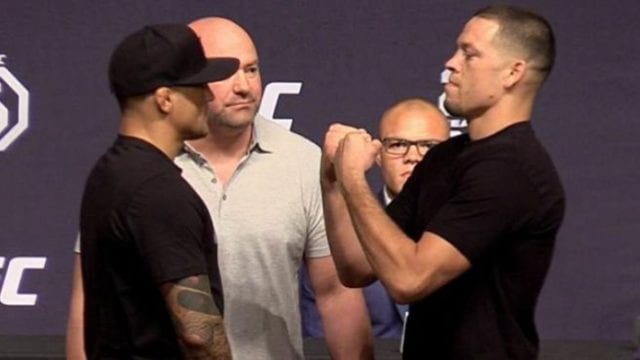 Dustin Poirier says, before it's all said and done, he'll move from lightweight to welterweight.
Poirier cuts, by his own admission, a huge amount of weight to get down to 155-pounds, and believes sooner or later he'll try his hand by moving up a division. And, wouldn't you know it, he has a name in mind already for who would be the best man to debut against: Nate Diaz.
"Before I'm done fighting, I'll go up to 170," Poirier said, speaking on the Joe Rogan Experience. "Yeah, I'll go up to 170 to fight Nate."
The two men have been scheduled before, only for the contest to fall apart before the pair ever made it to the Octagon. Since then, they've chirped back and forth on social media, with Diaz recently calling out Poirier for a contest at welterweight in the near future. While Poirier appears to be focused on a trilogy fight with Conor McGregor, he admits the previous scheduled contest falling apart makes him want to settle a score.
"Me and him were supposed to fight at Madison Square Garden," Poirier said. "I kind of was the fall guy. He gets to point and say I pulled out of the fight and I did. I went to get stem cells done on my hip.
"But I was going to fight, I was going to go through a camp and fight him if they wouldn't have started offering me other replacement opponents, Nate was playing games with the UFC, UFC started offering me opponents and I said, 'Look guys, if this is happening, I'm just going to have my hip taken care of.' He's a guy I've always wanted to fight."
Comments
comments