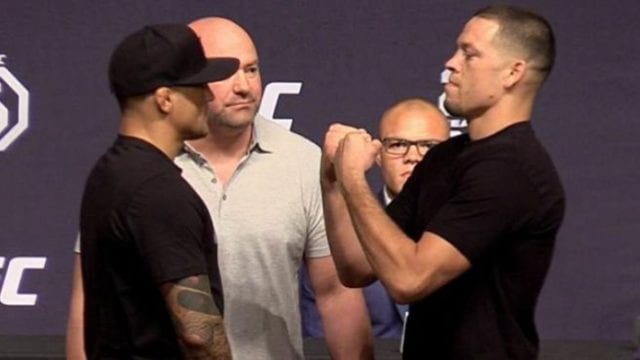 Dustin Poirier wants to renew his rivalry with Nate Diaz and is apparently of the opinion that this July's International Fight Week in Las Vegas is the ideal venue to host it.
Poirier and Diaz were scheduled to face each other in New York City in November 2018 but a hip injury suffered in the lead-in to the fight removed Poirier from contention, with Diaz subsequently being scratched from the card. Both men, and especially Poirier, have stoked the flames of a potential fight on numerous occasions in recent months — and 'The Diamond' did so again on social media when asked by a fan if he would be open to fighting Diaz as the co-main event to the mooted International Fight Week headliner between Jorge Masvidal and Kamaru Usman.
— The Diamond (@DustinPoirier) February 4, 2020
Poirier hasn't competed since a September defeat to Khabib Nurmagomedov in a lightweight world title bout in Abu Dhabi where he was defeated by rear-naked choke submission. Diaz, meanwhile, lost to Jorge Masvidal by doctor stoppage in a fight to determine the UFC's 'BMF' last November.
A fight between the two appears to make sense given the landscape of the division. Both Nurmagomedov and top contender Tony Ferguson are scheduled to fight in April, leaving only Justin Gaethje — a fighter heavily linked with McGregor — as the only top 155-pound fighter without an opponent currently (aside from McGregor, who fought just weeks ago).
Whether or not this fight is in the UFC's matchmaking plans will remain to be seen, but one thing is for sure: this would certainly be a fight to live up to the billing of what is expected to be one of the UFC's tentpole events in 2020.
Comments
comments