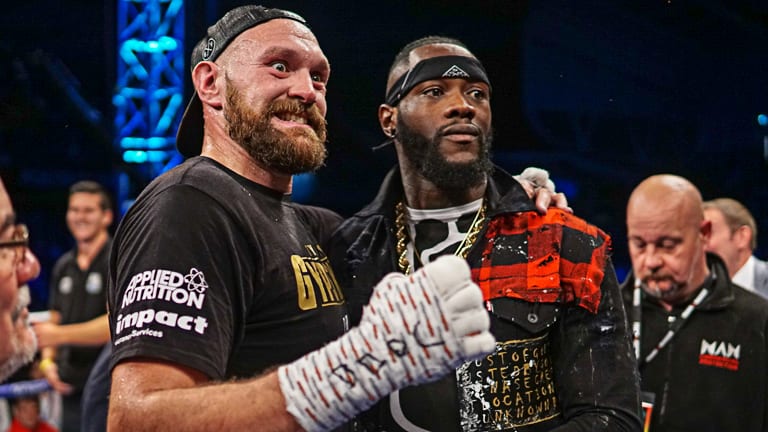 Tyson Fury's upcoming rematch with Deontay Wilder is being hailed as the biggest heavyweight boxing clash in many years, perhaps even in a generation, and Fury says that he is making use of some of the oldest tricks in the book to help him prepare for the momentous clash on February 22. 
One trick which has lasted over the years and is a by-product of bareknuckle, is to dip your hands in petrol which will supposedly help toughen up the knuckles — something he took from one of bareknuckle boxing's more notorious characters.
"I was speaking to an old legendary bare-knuckle fighter from the travelling community, he's called Big Joe Joyce," Fury said to Gareth A. Davies.
"He told me about dipping his hands in petrol to toughen them up. So for this fight I'll be dipping my hands in petrol for five minutes a day during the last three or four weeks of the training camp to really toughen them up. It worked for him, so I'm going to give it a try."
View this post on Instagram

"Love this pic" @bodypuncher @kronksugarhill @toprank @everlast @nike
Fury has occasionally had a rather hazy relationship with the truth so one can't be certain if Fury is actually employing this trick or not (look at his statements on training in mixed martial arts, for instance) but it certainly adds another layer of intrigue to his second showdown with the undefeated Wilder later this month.
"We haven't seen his power displayed like he's been talking about. It hasn't been continuous, like mine," Fury continued, referencing Wilder's much-vaunted power.
"I think he has pillows as fists. That's what I felt in our last fight. With the strategies that he's talking about, I don't really know how to take it. I don't know if he's trying to throw me off my game by saying he's going to knock me out."
Comments
comments