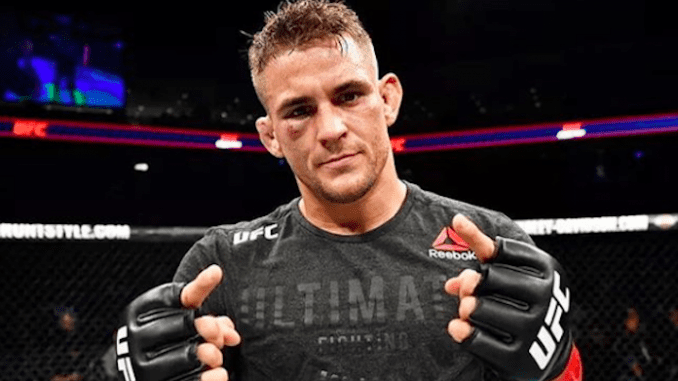 Dustin Poirier is well aware he's considered the underdog for his upcoming contest with Khabib Nurmagomedov at UFC 242. He just doesn't care that much.
Earlier this year, Poirier won the UFC interim lightweight title against Max Holloway to earn his shot at the undisputed lightweight champion Nurmagomedov, and while many believe the Russian will dispatch of his American contender with some ease, Poirier refuses to put himself on a lower tier in his own mind.
"This is real, I'm a world champion," Poirier said, speaking to ESPN. "As is he. This is a super fight to me. That's how I feel, that's what this feels like to me. We're going to a sold out arena they're building as we speak in Abu Dhabi, the middle of the desert, and princes and sheiks will be there. It's crazy. It's a Rocky movie."
In fairness, Poirier can understand why people believe he has a heavy task ahead of him. Nurmagomedov has yet to be shown serious trouble in the Octagon, and will walk into Abu Dhabi with an undefeated record. For Poirier, however, it's being able to look at Nurmagomedov's past opponents and translate their performances into his own training that gives him an idea on how to win.
"A lot of guys he's fought have the skills to beat him," Poirier said. "Fighting's a crazy thing, it takes one mistake. He can be beat by anybody. It's just as camps going on for me, I"m starting to realise things and say, 'Well I wonder if they made this mistake'. I've only been in camp for a week, but I'm noticing I'm paying a lot of attention to specific positions and the small details in those positions. I can see how somebody fighting a dominant guy who's never been beat like Khabib could get.. not overwhelmed, but look too far in the details of defense and staying safe and position.
"It's a ying-yang, man. You got to have a balance. If you just worry about that, you lose what you do the best."
–
Comments
comments