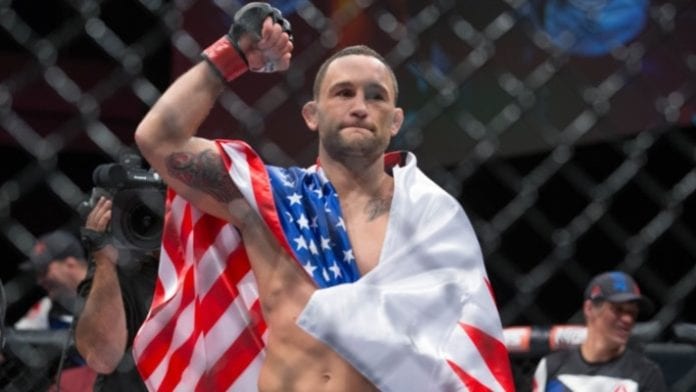 Ever since Henry Cejudo joined the UFC's exclusive 'champ champ' club by adding the UFC's bantamweight crown to the flyweight title he already held, the former Olympic gold medal wrestler has been vocal in his desire to add even more championships to his collection. 
'Triple C', as he ask to be referred to nowadays, has stated that no one between the weights of 99 and 149-pounds is safe in his prospecting mission, even going so far as to add the likes of Amanda Nunes and Valentina Shevchenko to his crosshairs, but another (and actually realistic) challenge would be that of Frankie Edgar.
If the New Jersey native is successful in his UFC 240 main event clash with Max Holloway in Edmonton this weekend, Cejduo says that a title bout with Edgar would be an ideal challenge for him, as well as giving him the opportunity of becoming the UFC's first-ever three division champion.
View this post on Instagram

Frankie Edgar (@frankieedgar) has not lost a goddamn step. Check out that hand speed. #UFC240
Among the potential stumbling blocks to this, of which there are many, is Edgar's personal feelings on the potential bout.
"That dude says a lot of s—t. Most of it's garbage so you've got to kind of take it with a grain of salt," Edgar told MMA Fighting. "Who knows what he's talking. My focus is nowhere near a 35-pounder right now. I'm not looking to fight the smaller guy. I'm looking to fight the best guy and that's Max right now."
Edgar, a former UFC lightweight champion, has competed exclusively at 145-pounds since 2013 and on Saturday will attempt to seize a championship belt in the weight class on his third attempt but has spoken in the past of how a cut to 135-pounds wouldn't be outside the realms of possibility.
A win over Holloway, Edgar says, could open the door to a rematch with the Hawaiian but he also recognises the challenge of surging Australian contender Alexander Volkanovski who is a perfect 7-0 in the UFC (19-1 overall).
"Absolutely," Edgar said when asked if he would welcome the challenge of the former rugby player. "Barring Max coming back down for a rematch, who knows what could happen, but task at hand, July 27."
Comments
comments