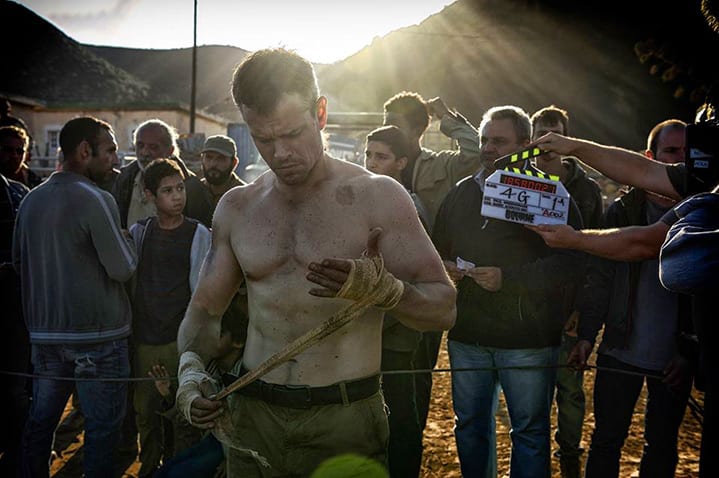 Matt Damon's early film career didn't exactly point to him one day being considered one of the world's foremost action movie stars.
Movies like 'Good Will Hunting' and 'The Talented Mr. Ripley' signposted the actor as one of Hollywood's brightest talents and as the box office receipts began to mark him as a viable, bankable commodity for movie studios it was inevitable that he would one day make his mark on the action movie world.
However, Hollywood has firmly established tropes for what an action star must look like: big shoulders, big arms and, well, big everything. So how exactly did Matt Damon ready himself to take on roles such as that of special forces operative Jason Bourne? Hard work, and lots of it.
The 2016 film 'Jason Bourne' required Damon to be at his physical peak and he undertook a training regimen which culminated in the actor benching an impressive 250-pounds, all under the tutelage of celebrity trainer Jason Walsh, the man who has sculpted the physiques of well-known actors John Krasinski, Bradley Cooper and Jessica Biel among others.
Walsh prepared the following routine for Damon to increase his muscle mass:
3 x 100 pushups
3 x 25 Pull Ups
2 x 25 Squats
2 x 25 Pistol Squats
2 x 25 Squat-Jumps
4 x 25 Crunches
With this aimed at establishing a strong core with which to layer further workouts upon, Damon's strategy was to focus on entire body workouts rather than isolating individual muscle groups and training them separately. This strategy uses more oxygen and burns more calories, simultaneously increasing muscle mass while also burning fat.
"A lot of people don't know what it's like to work that hard and work that long," Walsh said of Damon. "We had been working out for a year and a half straight. He worked his ass off, I'm really proud of him."
Of course, a role that of Jason Bourne requires much more than just packing on a few extra pounds of muscle, which included sessions on the VersaClimber, which you can see below.
The VersaClimber allows you to work both your upper and lower body at the same time, leading to more muscle, more oxygen and a very high calorie-burning ratio. In addition, Damon's diet was limited to 2,000 calories per day, as well as having a monitored water intake in a system not unlike the water-loading technique many professional fighters use during the weight-cutting process.
"You start off drinking quite a but of water the week leading up to the shooting, then you start to cut back around two days before a specific shot. So, on that day, you don't have a lot of water in your system," Walsh said.
It should be noted that limiting the water intake is a purely cosmetic choice designed to make Damon look good in his many shirtless scenes, so we wouldn't quite recommend that as a general strategy — unless you are preparing for your very own close-up on the silver screen.
Comments
comments