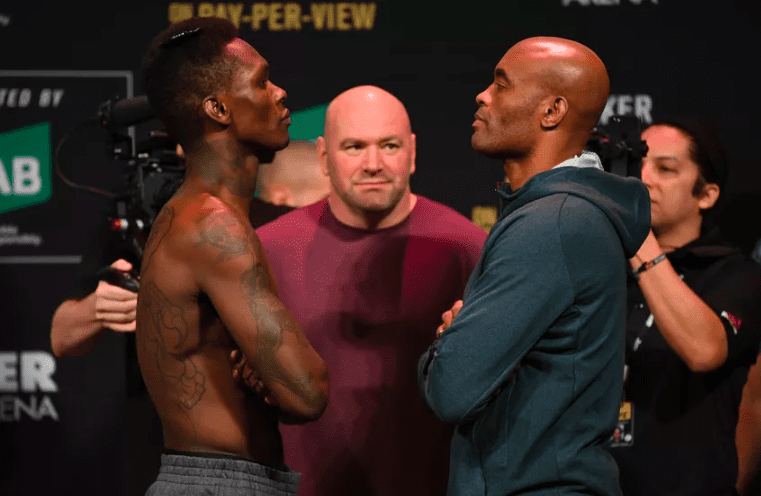 Even though it was through Robert Whittaker's misfortune, Israel Adesanya certainly made the most of his last-minute promotion to last weekend's UFC 234 main event in Melbourne, Australia.
Adesanya bookended his first 12 months in the UFC with his fifth and highest profile win yet against middleweight great Anderson Silva, earning a title shot in the process in an interesting clash of two wildly similar yet conversely contrasting styles.
When it was all said and done it was Adesanya who had his hand raised, inserting himself into a now rather uncomfortable championship trifecta with Robert Whittaker and Kelvin Gastelum. He revealed after the fight that Silva, the greatest champion in the division's history, reserved some advice for the 29-year-old after the fight.
"Don't lose your focus,'" Adesanya said he was told by Silva in the cage post-fight. "And you can kind of hear it a little bit. Before Herb Dean grabbed us away, I said, I understand. I've seen a lot of snakes in this game. I've seen how this game is played. And not everyone is your friend. He's like, yes! Yes! So he's just telling me, don't lose my focus, stay on the path of greatness, pretty much.
"And trust me, I will fall at some point, but the thing about me is whenever I fall in my life, personally or professionally, I always bounce back like a trampoline."
The New Zealander of Nigerian origin also explained the increase in fame he has experienced through this last year in the UFC has led to more than a few detractors finding their way to him via social media.
"People want to see, the guy who thinks he's the man, they want to see him fall for whatever reason," Adesanya said. "And I've been part of it. I've tasted that before, the green-eyed monster, so I can understand when I see it in other people. When they come to my face and tell me, 'I'm so happy for you.' I can smell it. I can see it. I'm like, you would not be happy for me. You would love it if Silva had chinned me…if he had caught me at one point."
Comments
comments