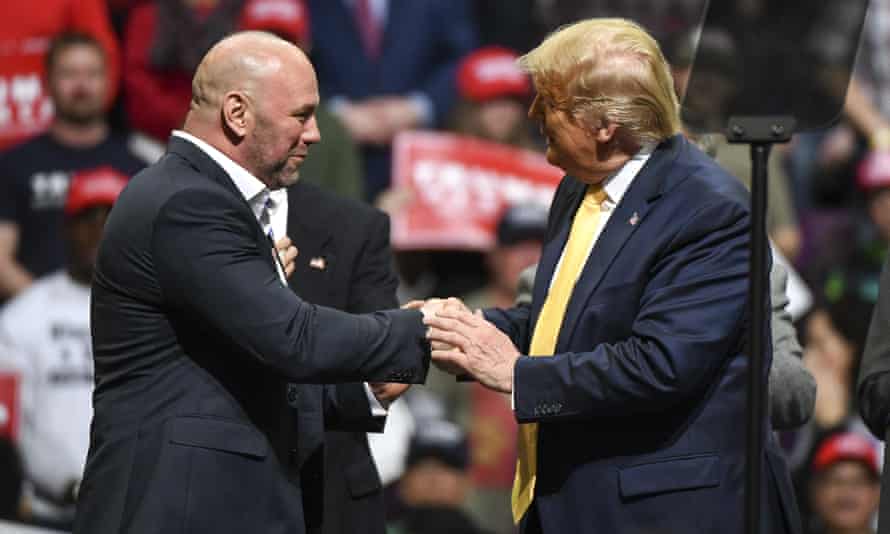 Former United States president Donald Trump is likely to be on hand to witness this weekend's showdown between Conor McGregor and Dustin Poirier in Las Vegas, according to Dana White.
Trump, who was voted out of office last year after serving just one term in the White House, is a noted mixed martial arts fan going back to days in which he hosted events by the Affliction group on Trump-branded properties, while also being on hand for Jorge Masvida's 'BMF' title match with Nate Diaz in Madison Square Garden a couple of years back.
Trump had also latched on to the likes of Masvidal and Colby Covington, with the former teaming up with Trump's son, Donald Jr., for campaign stops in Florida — a state which was won by Trump last November. However, the former reality television personality and failed casino magnate was heavily beaten by current president Joe Biden in the general election.
Now unemployed, Trump clearly has some more time to pursue his interests and according to TSN's Aaron Bronsteter, is likely to be in attendance inside the T-Mobile Arena this weekend.
45th U.S. President Donald Trump will be in attendance for UFC 264 this weekend per Dana White. As will Justin Bieber, Dave Chappelle, Kevin Durant, Odell Beckham Jr., Machine Gun Kelly, Megan Fox, Mel Gibson, Kourtney Kardashian and Travis Barker and many others.

— Aaron Bronsteter (@aaronbronsteter) July 7, 2021
According to Bronsteter, Trump will be joined at the event by a who's-who of famous names, including Justin Bieber, Dave Chappelle, Odell Beckham Jr., Megan Fox, Mel Gibson and many others.
UFC president Dana White has also repeatedly thrown his weight behind Trump in recent times, and has spoken on his behalf at the last two Republican National Conventions.
Comments
comments