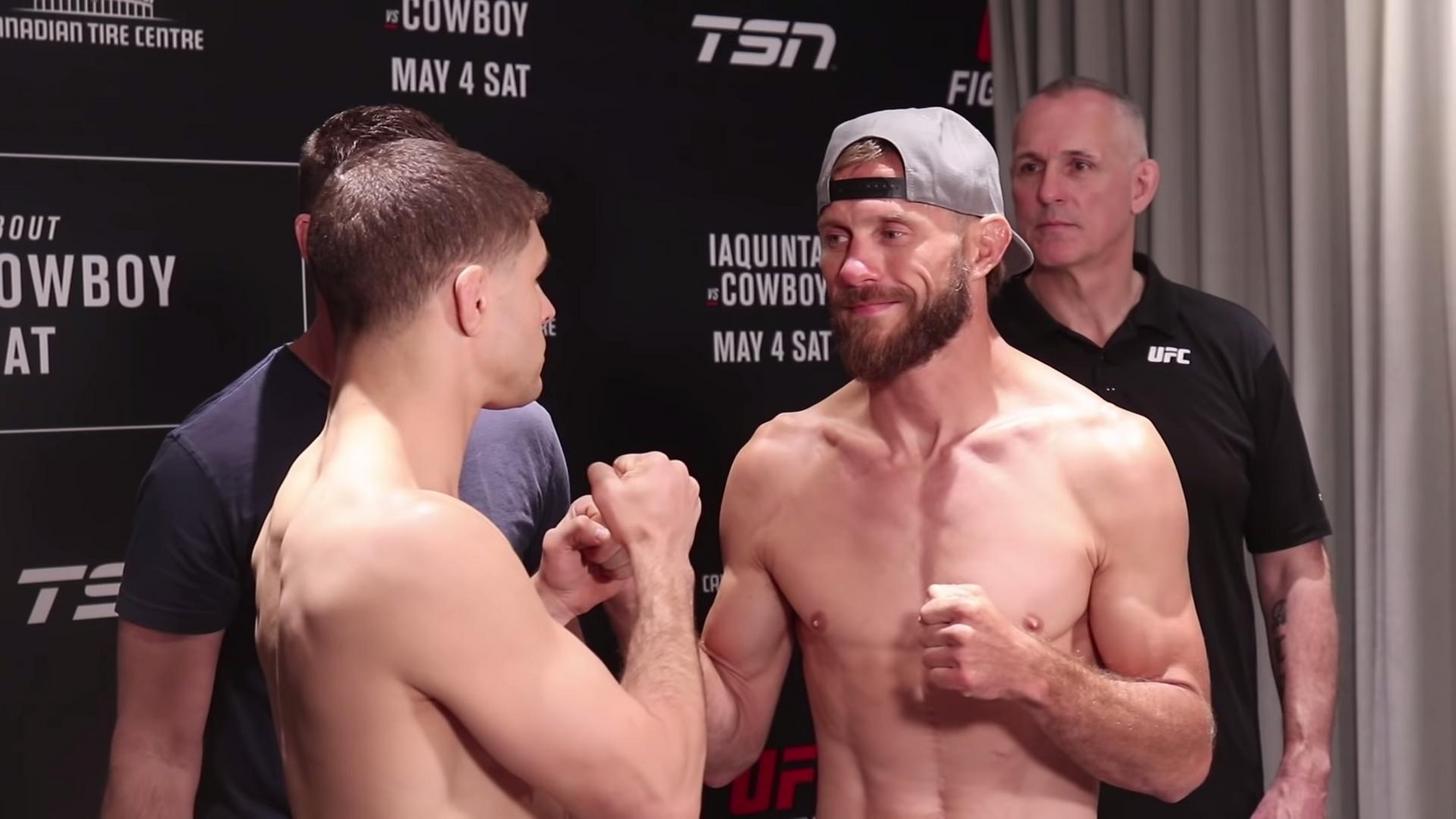 Donald Cerrone has never been shy about his own mental frailties leading up to fights.
The man called Cowboy often says he has no real prediction how he's going to do until he arrives at the arena on fight night, when he'll suddenly get a realisation the evening is going to be fantastic or dreadful.
On Saturday night in Ottawa, he says, it was all ready to go horribly wrong.
"I was telling my corners, I felt terrible starting that fight," Cerrone said, speaking post-fight. "I couldn't find it, back in the locker room I didn't want to warm up. I didn't want to get ready, I didn't want to hit pads, I didn't want to wrestle. I didn't want to fight until the second round. People always say I'm a slow starter and, 'What Cowboy are you going to get?' And we train hard, we train so hard and we try and find for our opponents to beat us so that we can show up and beat them on our worst day. And today was my worst day."
In the past, the Cerrone who felt awful heading out to the cage has been obvious. High profile, underwhelming performances like his title fight with Rafael Dos Anjos prove the night and day qualities between a Cowboy who's on form and one who isn't. Luckily for Cerrone, the man we're dealing with now is a man who's understanding fatherhood, understanding his own place in this sport and a man who finally realises he's been doing this long enough to know he's pretty good at it.
"Thank God it's been 41 fights in Zuffa that I've been here because I was able to, like, fake it 'til you make it, 'cause you fake it long enough and you find it," he said. "In the second round it was like, there it is and let's go to work. It's just tough, because I think the younger me would have quit. It's just crazy, there's like memes out there of lions with little cubs saying, 'I would have quit until I realized who was watching', and it was like, yeah motherfucker, let's go."
"The Cowboy you get is a crapshoot," Cerrone continued. "If it was Al, he had my number, he should have just fucking turned it on in the first round because I was lost. I don't know where I was, but I wasn't in the fight."
Now, it's onto the future, and in Cerrone's mind there's two options.
Either he's granted another shot for the 155-pound world title, and given the opportunity to cap his career off with a storybook ending, or he finally trades shots with a notorious Irishman.
"My name's in the hat for [the title shot] for sure if one of them fall out," Cerrone said. "But like I said, I left [155-pounds ranked at 2] and I didn't go anywhere. So people ask me where should I be ranked, I don't care about ranking. I should beat these guys, I feel like I'm the best in the world. I feel like that's where I belong and for the UFC not to give me a title shot, I would step back and I would be thoroughly disappointed. Like, wow, a guy who's done all this for the sport, I don't trash talk, I go in there and I deliver every time and you're going to overlook me for somebody else. I'd be really upset like, wow, that's the company work for?
"Which I'm not saying is gonna happen by any means. To me, I'd really be thrown back — on the flip side, if Conor wants to fight, fuck yeah, let's go. Especially in July, I'm ready, let's turn and burn, baby.
"Who knows? I'm gonna be sitting at home in a couple of months, bored, like, 'Fuck. Fine. I'll fight whoever, let's go'. But I love it."
Comments
comments