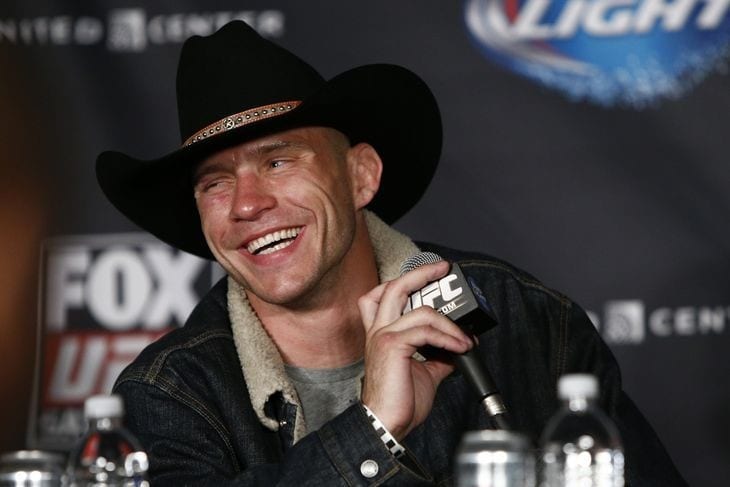 Not everybody would be genuinely excited to step foot in a cage and have a fist fight with Robbie Lawler — but not everybody is 'Cowboy' Donald Cerrone.
The two welterweight's are set to face each other on July 8 at UFC 213 in a fight that has the potential be one of the best contests of the year. And with both men fan favourites, it's fair to say that Cerrone versus Lawler is one of the most anticipated fights currently booked — even by Cerrone himself.
"I'm fucking pumped," Cerrone said recently at a UFC 213 media event. "It's going to be exciting, you know? I don't even know why they need me to keep selling this fight, it's already, if you're not a fucking MMA fan and watching this fight, then fuck you.
"This is a fight that I think everyone's going to want to see. It's like a fighter's fight, you know? Two old-school boys getting down, I gotta say, my mentality was it doesn't matter who they give me. I just got my ass whipped, coming off a hard fight, and now I've got another one. It's good, man. It's awesome. I'm looking forward to it."
And, despite coming off of a bad TKO loss to Jorge Masvidal, Cerrone's (forced) time away from the Octagon has him chomping at the bit to get back in there. Especially in a fight that promises to be a wild striking affair.
"I'm going to fight. Fight one of the best brawlers in the standup, fucking throw down and put on a show," Cerrone said. "This fight's for me. This is what I love, there's no place I'd rather be than in that motherfucker. And then throwing down with one of the greatest? Come on. I'm loving it, every minute of it."
Comments
comments