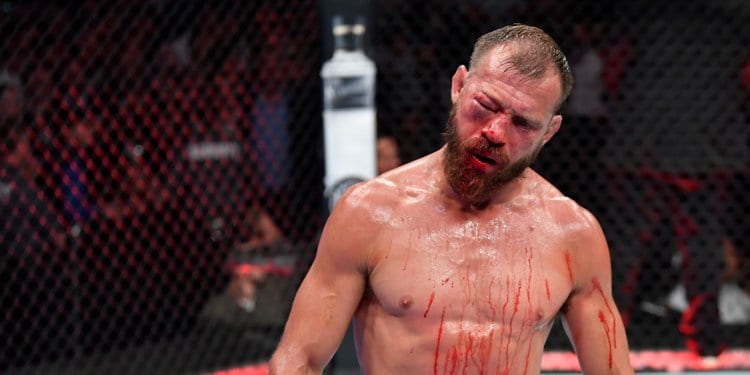 Donald Cerrone's orbital bone is not fractured or broken after his two round war with Tony Ferguson.
The UFC lightweight was transported to the hospital following his UFC 238 contest, after Cerrone's eye swelled shut following an ill timed blowing of his nose. While fans were unhappy about the disappointing end to an exciting bout, at the post fight press conference, UFC president Dana White stated Cerrone's eye was fractured and anyone who wanted to see him continue "should be beaten with a stick."
Well, while Cerrone might not be angry about the stoppage, he is at least happy that his eye isn't going to be compromised for the foreseeable future. In a post to his social media this morning, Cerrone wrote he was: "in Good Health. Thanks for all the message and concerns. Only air was in my eye. No broken bones nor cracked or broken orbital. Sitting and waiting for the Rematch or next fight."
Cerrone's next move is uncertain.
In the immediate aftermath of their fight, Ferguson said he'd be happy to run the contest back if Cerrone felt hard done by, although seemed to retract those comments later in favour of wanting a title shot.
The defeat ended Cerrone's incredible recent run at lightweight and, for now at least, halts his own journey towards his first UFC belt.
–
Comments
comments