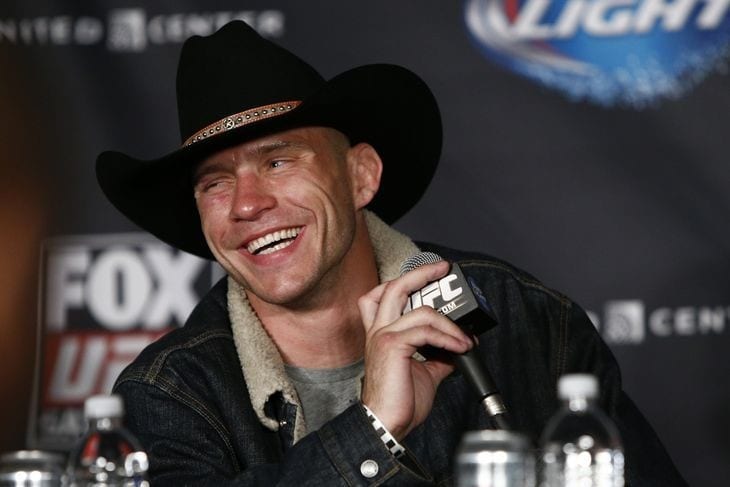 Donald Cerrone is targeting a return to the lightweight division after putting the brakes on a three-fight skid he had suffered in the UFC's 170-pound division with a first round TKO finish of Yancy Madeiros in Sunday night's main event of UFC Austin.
Cerrone rebounded from a trio of defeats against Jorge Masvidal, Robbie Lawler and Darren Till to record his first win since a December 2016 head kick KO of Matt Brown and, in typical Cowboy fashion, used the moment to issue a challenge to everyone in the lightweight division.
'Cowboy', who is 8-1 in his most recent run at 155-pounds, stated in the FOX Sports 1 post-fight show (as reported by MMAFighting) that his stay at welterweight is coming to an end and that he intends to drop down to the division in which he once contested for the world title for his next bout.
"I want '55. I want to go get that belt," Cerrone said, before issuing a more specific challenge. "Khabib, I'm coming, baby. I'm coming. I ain't scared to fight you."
After appearing to be at something of a career crossroads following a one-sided first round knockout defeat to Darren Till in Poland last October, Cerrone appears a man reinvigorated after Sunday night's win. His welterweight run won't be judged as a failure by any means, but as Cerrone admitted himself post-fight in Austin on Sunday, some of the division's larger strikers posed some very difficult questions.
"These big ol' boys hit hard and they're a lot bigger, man", Cerrone explained. "Like, I woke up at 168 (pounds), made weight easy. I wish there was a '65 weight class. UFC, can we get a 165 weight class, please? Because that'd be cool.
"But yeah, I don't know," Cerrone added. "Who knows, I'll just fight whatever they tell me. They'll call me and say, 'We need you at 170,' and I'll be like, 'Okay.'
"They all pay the same to me so it don't matter what it is."
Comments
comments