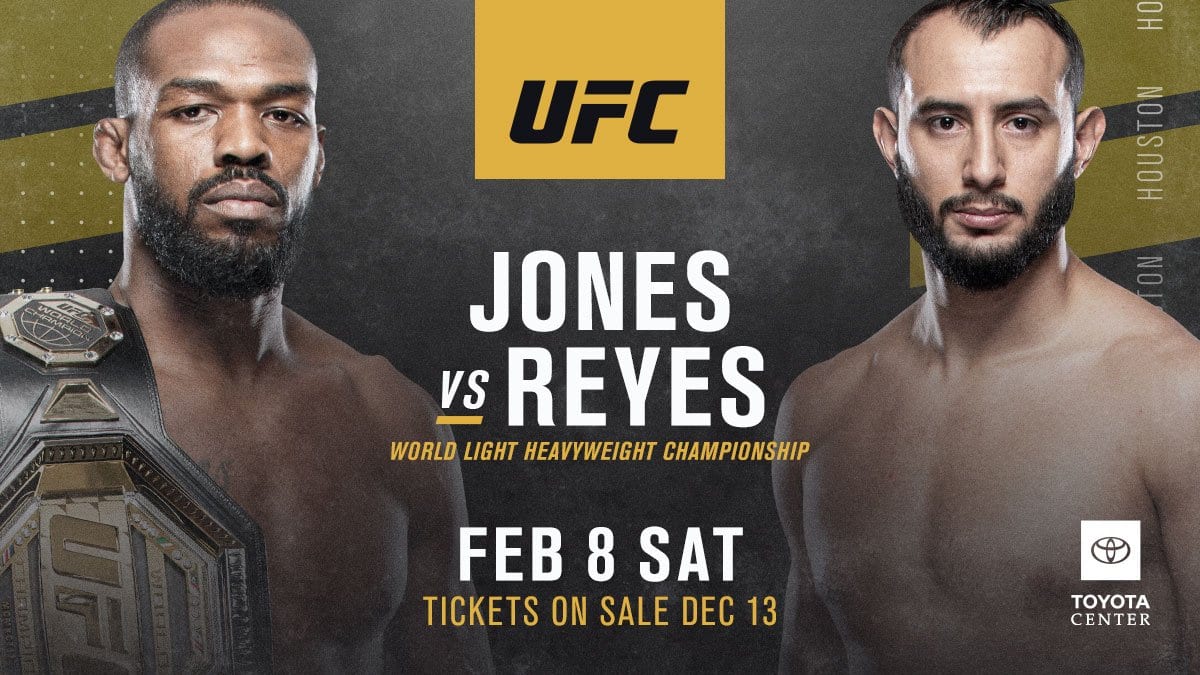 Dominick Reyes knows exactly who and what he's facing in February when he steps in the Octagon with Jon Jones.
The UFC light heavyweight champion is considered to be one of the best to ever compete in mixed martial arts and has cultivated a feeling of invincibility by knocking away all contenders to his title. In Reyes mind, a lot of Jones' success comes from that very mystique and pressure that challengers feel before the opening bell even rings, and he refuses to play along with it like so many have in the past.
Case in point, his attitude to any trash talk Jones is planning to lob his way.
"His trash talk is brother trash talk. I have brothers, he has brothers," Reyes said, speaking to Submission Radio. "It's — you know when you have a bunch of brothers and you guys are all around and it's competition there constantly — it's little jabs, it's little shots about their biggest insecurities just to mess with them and get them mad, and then they do something and you're like, 'Mum!'. It's the same thing, he's like a little kid. It's the exact same like trash talking. It's kind of childish. It is what it is. I just think it's funny, man, because I don't care.
"I don't give a fuck what that guy says to me. I don't care at all what he says to me. Like, bro, you can say whatever you want. Say whatever you want. It's not gonna help you. It's not gonna save you. It's not gonna make me not want to knock you out. It's not gonna try to make me knock you out more. Like, I'm not dumb."
While Jones has so far kept something of a "ticking the boxes" attitude towards Reyes, having suggested he accepted a fight with Reyes due to a dearth of options at 205 pounds, Reyes still maintains the champion is just acting and appreciates he has a task in front of him.
"I think he's treating me with a lot of respect. I think he knows how dangerous I am," Reyes said. "I think he knows. He's not taking this fight lightly, man, he's not. No matter what he says, I'm one of his most dangerous opponents in a while. Thiago was pretty dangerous, and Thiago went out there and fought, but he didn't have nearly the reach that I have. So, I think this is going to be very similar to the Gus/Jones 1 [fight]."
Comments
comments