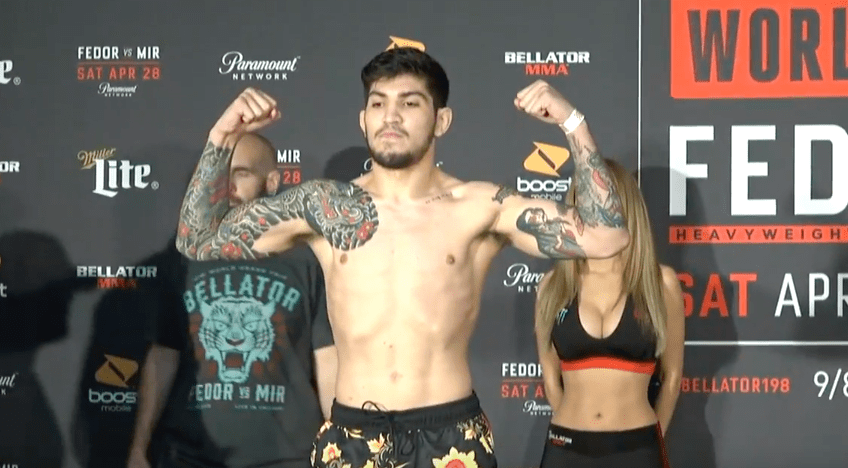 It's not just Khabib Nurmagomedov and Conor McGregor who could face repercussions for their involvement in the UFC 229 brawl.
On November 14, Dillon Danis, Zubaira Tukhugov, Abubakar Nurmagomedov and more are facing discipline from the Nevada Athletic Commission (NAC), and will all have hearings to extend their temporary suspensions at the upcoming NSAC meeting on November 14. Much like the similar discussion for McGregor and Nurmagomedov's own temporary suspensions, it's unlikely any of the names listed will be given their punishments on the day.
After the UFC 229 main event last month, Khabib Nurmagomedov scaled the Octagon and launched at McGregor teammate Dillon Danis to brawl at cage side. While that fracas was underway, Tukhugov and Nurmagomedov both jumped into the cage. Nurmagomedov exchanged blows with McGregor on top of the Octagon, while Tukhugov and McGregor went on to scuffle inside the cage. Another man to be dealt with at the Commission hearing, Esedulla Emiragaev, landed a punch on the Irishman from behind.
Since the event, a number of videos have been circulated amongst fans in an attempt to decipher whom is to blame for the entire affair. In the most recently shared clip, Rizvan Magomedov (a member of Khabib Nurmagomedov's management team) is seen tapping Danis on the shoulder as he entered the cage after the main event, before throwing strikes in the ensuing brawl. There is also video of him being handcuffed by Las Vegas police after the fracas.
Magomedov, part of Khabib Nurmagomedov's Dominance MMA management team, can be seen on video tapping Danis on the shoulder as he entered the cage following the fight. He then was involved in the brawl outside near McGregor's corner, throwing punches. He was also seen on video being detained by Las Vegas Metro police following the incident.
Tukhugov was famously supposed to meet Artem Lobov at the recent UFC Moncton, but was pulled from the event and replaced by Michael Johnson. Immediately post-UFC 229, UFC president Dana White said whomever was involved in jumping in the cage and employed by the UFC would be let go, although Nurmagomedov threatened he would walk from the promotion if that occurred. As of now, Tukhugov remains under contract.
Comments
comments