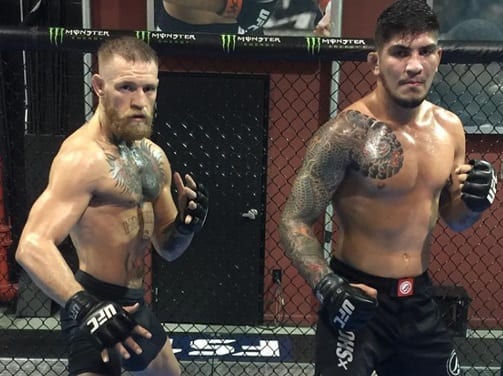 It's fair to say that Dillon Danis' stock has risen in recent months.
Already considered one of the 'top of the food chain' competitors in the world of brazilian jiu-jitsu, Danis has recently got his teeth stuck in to the world of mixed martial arts and has spent numerous hours on the mats of SBG Ireland with UFC lightweight champion Conor McGregor — an apprenticeship which, as Danis says, has made his desire to compete in an MMA bout stronger than ever.
And Danis has his sights set on one man in particular.
In a recent interview with Ariel Helwani on The MMA Hour (as reported by MMAFighting.com's Marc Raimondi), Danis said that Sage Northcutt would be an ideal first opponent for him.
Danis has yet to make his official mixed martial arts debut and has an offer from Cage Fury Fighting Championship to fight in February, though it conflicts with a submission grappling tournament he has been invited to attend, but he says if his MMA debut did occur opposite Northcutt, it would be an easy night's work.
"That would be an easy fight," Danis said. "Just to get in there. That would be a good, easy one to just get out of the way. Beat someone that has a decent name. I honestly think I can go my first fight in the UFC, and I think I would dominate."
"I say that 100 percent being fact. I'm not a stupid person and I know what I'm capable of. I know who I've trained with, and I know what I've seen."
For someone who has already succeeded at the highest level of the grappling world, his time spent in Dublin (and elsewhere) training with Conor McGregor is about as good an apprenticeship as you can get in mixed martial arts.
Whatever happens and wherever he ends up, Danis suggests that he will take to MMA with ease regardless of the weight class he competes at.
"I can dominate any weight class", he says.
Comments
comments