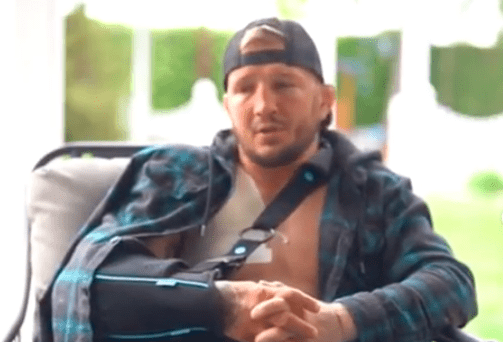 T.J. Dillashaw has spoken publicly for the first time since it was revealed that he has been handed a two-year ban from mixed martial arts following a positive test for EPO.
A clearly emotional looking Dillashaw released the video statement to his Instagram account, showing his right arm in a sling after having underwent shoulder surgery on Thursday. In it he apologises to his coaches, fans, family and teammates for the positive test, admitting his guilt and making no excuses for his actions.
EPO stimulates the production of red blood cells, aiding the delivery of red blood cells around the body which improves the process in which oxygen is transferred from the lungs to the rest of the body. This in turn provides the person who ingests it to increase their capacity for athletic performance before fatigue sets in.
"I messed up," Dillashaw says in the video statement. "I'm having a hard time trying to forgive myself for this — which I should have a hard time. I should have a hard time forgiving myself. I understand the criticism and the scrutiny coming my way but what I really feel bad about is the bad light I'm bringing on my coaches, my teammates. They had no involvement in this. I feel the worst for them.
"I've got a 15-month old son that I want to be a role model for. I'm there there's a lot of other kids out there too. It's tough, but I've got to man up to what I did. I accepted all penalties. I didn't try to fight this thing.
"I'm going to sit for the next two years. 2021 is when I'm allowed to come back. I had shoulder surgery yesterday on my right shoulder. Two months later I'm getting my left one done. I've had torn rotator cuffs and labrums for the last two and a half years that I've been dealing with. It'll be nice to get those healed up before I come back."
View this post on Instagram
"I've had people tell me I should just disappear and let this stuff die out. Let this thing die out for the next two years and just disappear. I don't think that's the way [to] handle this thing. I'm coming at it head-first, showing my son that when you make a mistake, face it. Face to face, don't run from it. Trust me, I'd love to run away and go hide in a cave for the next two years and continue to grow out this shitty beard.
"Yeah man, it's been weird [inaudible]. This is who I am, I'm a fighter and I'll have to fight my way through this one.
"I want to apologise to my fans, anyone I've let down. Obviously to my family, my coaches, my teammates. I can't say sorry enough for stuff that they're dealing with because of me. But this won't be the end of me, I'll be back and I'm making a promise now that I'll be back better, I'll be back stronger. [Next section inaudible]
"Be better. I want to be better — and I will."
Comments
comments