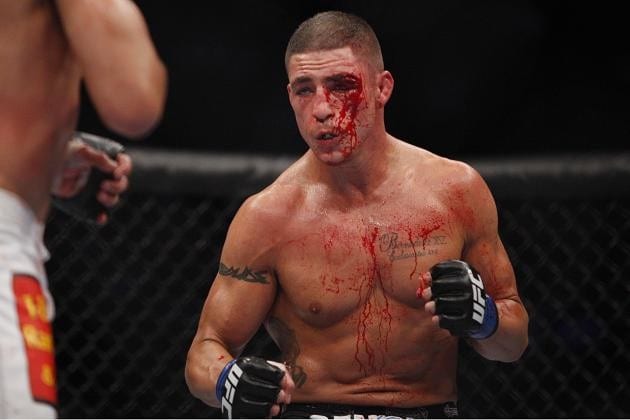 It is probably fair to say that Diego Sanchez, nor his coach Joshua Fabia, expected the criticism levied their way following the climax to Sanchez' February 15 clash with Michel Pereira in New Mexico a couple of weeks back.
After being dominated for the better portion of the fight, Sanchez was hit with an illegal knee by his Brazilian opponent which led to a DQ win for the Sanchez. While this outcome is very much within the framework of mixed martial arts and the rules that fighters observe when they step into the cage, the result was a point of contention for many fans who, for what of a better term, feel that the fighter 'took the easy way out'.
While that particular assertion is up for debate, Sanchez's new coach, Joshua Fabia, also came under fire for was perceived as unconventional corner advice. However, in comments made to MMA Junkie, Sanchez defended his 'mentor' in no uncertain terms.
"Joshua is my brother, my mentor, my guide, my manager, my trainer," Sanchez said. "This has been the most disrespectful that my fans and the masses of the MMA community have addressed me in my career – just throwing all the hits and all the traumas that I took in the 16 years in the UFC. All this trauma that I took, I paid the price for the experience to make my own decisions in what is best for me going forward.
View this post on Instagram
"I have always been different than everybody else and maybe that's why I've lasted so long, alright. I continue to thrive in a special, unique, unorthodox approach that has led me to Joshua. And what he's done for me, how this side of mixed martial arts is amazing and you really should look into it and become aware of that."
Sanchez's spell with Fabia has seen mixed results. He looked impressive against Mickey Gall but far from that against Michael Chiesa. And then came the Pereira peculiarity. But he says you can expect more of this before he hangs up his gloves.
"I don't look like I'm going anywhere," Sanchez said. "I'm speaking healthy, and this is more than a fighting career because Diego Sanchez – the UFC fighter, the identity – that's been done and dead. I am Diego Sanchez, the human being now.
"And so now that I step into this part of my purpose in life, understand that I'm making these decisions, I'm thinking about this. I'm putting my heart, my mind, my daughter, and my mother and father – the three people that I have to take care of. I'm doing everything in the best of my ability, in the best way that I can for my future. And that includes standing up to the bullies who were taking advantage of me and not treating me correctly.
"This is just what it is. I know that a lot of people around the world are suffering from these same things, whether it be at their job or whether it be on the playground. They're not saying, they're not speaking up, they don't have the courage. I want people to see me and see something different. A new generation, a new era of people believing in themselves and not just listening to what the comments say."
Comments
comments