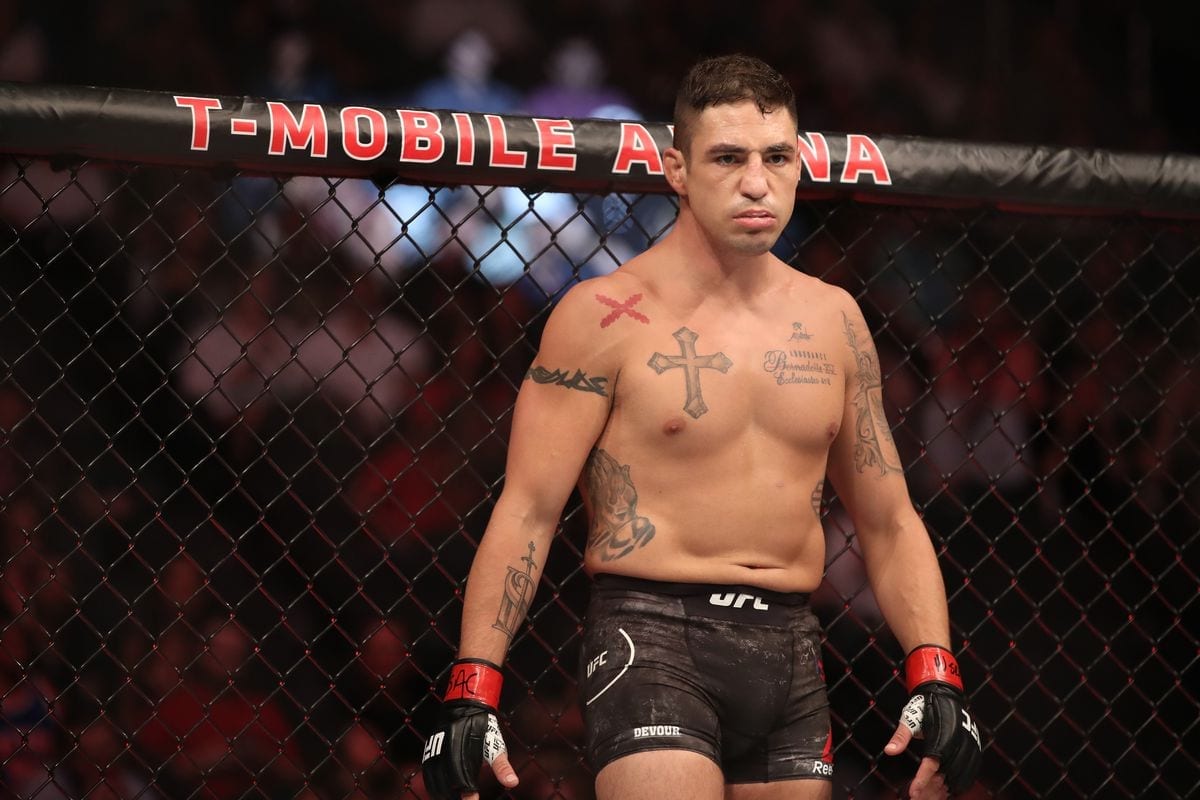 Diego Sanchez says he's scared of repercussions from the UFC after being released from the promotion and speaking out about what he considers the company's wrong-doing.
Last week, Sanchez was let go from the UFC after he and his team were unwilling to put in writing that he felt he was not suffering from long or short-term effects of fighting. He was removed from a scheduled fight with Donald Cerrone that was supposed to be his final contest with the company.
Since his release, Sanchez has had multiple video recordings (which heavily feature his coach Joshua Fabia) posted to his social media which include an argument between Fabia and the UFC commentary team in Abu Dhabi, as well as a recorded phone call between Fabia and Hunter Campbell, the UFC's chief business officer.
By taking those steps, Sanchez apparently feels he's potentially putting his well-being at risk. Speaking at length on SiriusXM with Anthony Smith and RJ Clifford, Sanchez went into detail of his fears.
"We've been filming everything to protect our own asses man. You think shit is just clean cut. All moral integrity and honour and respect. As real as it gets company. That's not the truth," Sanchez said. "I'm outside this company now. And to be honest with you, I'm going to tell you both frankly right now, I'm fearful, man. I'm fearful for my motherfucking life. I'm fearful that this company, this billion dollar monopoly company worldwide, is going to come after me. Something might happen to me in two years. Maybe in a couple of years, maybe something happens. Maybe my truck falls.. maybe I wreck my truck. Maybe something happens. Maybe I overdose on some suicide shit. I don't know, but I would not put anything past the level of evil that is within this corporation.
"[Why would they kill me?], If I was to expose some of the stuff that I know about because I've been in this motherfucker longer than anybody else, and been the only one that survived the bitch, that went through the fucking dark tunnel and came out the other side — I'm still here, I'm still able to speak to you guys, thank god for that, and that's also due to Joshua Fabia helping me. He mentored me and coached me in speech. He mentored me and coached me in how to be a better father. So many other things. And no. We're not gay. Ariel Helwani pushed that narrative. That was a part of Ariel's narrative. … No we're not gay, he's been the best friend that came into my life, helped me get my shit together because he seen a man that was so traumatised emotionally, physically, mentally. In so many ways. People don't understand."
In all of this, Fabia's relationship with Sanchez has perhaps been the thing that's come under most scrutiny, with the coach appearing to have a large influence over Sanchez, causing some to fear he's manipulating the veteran. If you look at Sanchez' social media, the vast majority of comments on his posts are fans pleading with him to separate himself from Fabia.
According to Sanchez, those comments stem from the UFC.
"They're trying to silence me and Joshua with a narrative," said Sanchez. "With a push, with the power of four. YouTube, Google, Instagram — you don't think UFC is in the pockets of Instagram? You remember going to the athlete retreat center when we first talked? They pushed Instagram on us. When Instagram was still real … How do they do this? Because they got fake profiles. They're in control of these fake profiles, so you can do whatever you want. Now that it's gotten so big, it's a paid system, so me exposing that? That's not good. Not good for me.
"But the truth of it is, I know a lot. And the awareness, bringing awareness to stuff is heavy and it's deep … And everybody out there who's going against Joshua? Shame on you. Shame on you. You're a little sheep, you're following the narrative, you're believing what these fake little robots, fake accounts are putting up, 'Oh con, con, con, strange, strange' … But thank god I got a smart coach, we've been documenting this shit. We've been documenting all of this."
Comments
comments