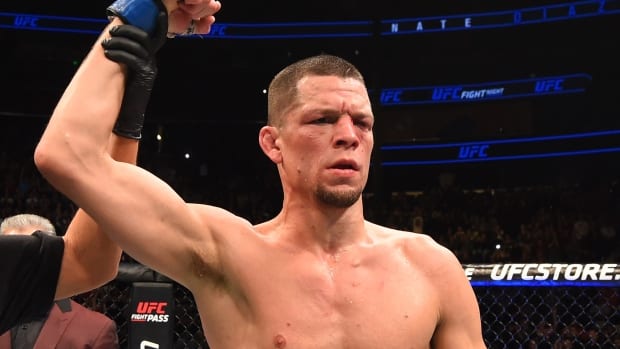 Nate Diaz acted in self-defence in the viral Bourbon Street altercation last weekend after which an arrest warrant was issued for the former UFC fighter by the New Orleans Police Department (NOPD).
A brief video clip circulating on social media in recent days appeared to show Diaz allegedly applying a standing guillotine choke to a man, who subsequently lost consciousness. The individual was later revealed to be amateur MMA fighter and pro-boxer Rodney Peterson, who has attempted to gain a social media following by being a lookalike of Logan Paul. Diaz boxes Jake Paul in a bout in Dallas, Texas in August.
After the NOPD issued an arrest warrant for Diaz following the alleged altercation, his representative Zach Rosenfield issued a statement to MMA Junkie in which he indicated that Diaz has been in contact with the Louisiana authorities.
"Nate's attorney, Walter Becker, can confirm that Nate has received word of the arrest warrant, and Becker has been in contact with court authorities in New Orleans," wrote Rosenfield. "Nate's attorney looks forward to presenting all of the facts about this incident to the District Attorney, which clearly demonstrate that a trained fighter named Rodney Petersen aggressively pursued Nate with the intention of engaging him and once doing so, Nate acted entirely in self-defence.
"No further comment will be made at this time."
The NOPD are keen to talk with Diaz amid claims that he could be charged with a second-degree battery, a felony in the state of Louisiana. It is punishable by up to 8 years in prison and/or a fine of $2,000.
Comments
comments