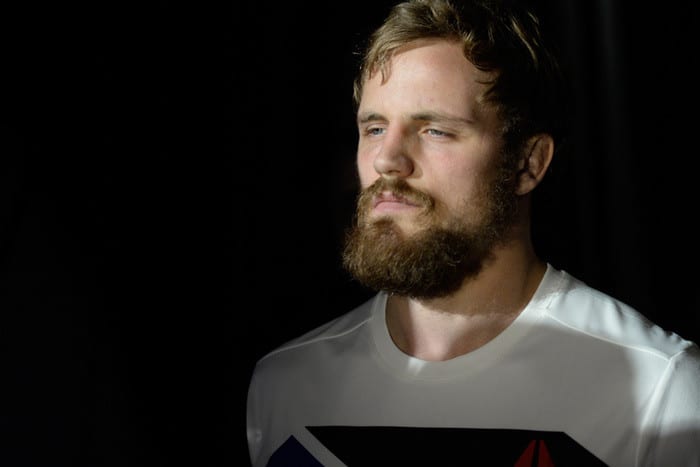 A fighter's career is a brief one, so for Gunnar Nelson to be robbed of more than a year of his due to injury was a frustrating turn of events for the Icelander.
Now fully healthy after a knee injury nixed a bout with Neil Magny in Liverpool last May, Nelson is preparing to make his first octagon appearance since July of last year when he takes on Alex Oliveira at UFC 321 in Toronto on December on December 8 next and as he explained on an episode of Eurobash via MMA Fighting, he is is looking forward to putting his injury concerns past him after a particularly frustrating part of his career.
"It was devastating," Nelson said of the injury which ruled him out of the Magny bout.
"The camp was going really well, everything was looking good and then these things come out of nowhere. It was in training, but nothing happened. It wasn't like an accident happened, I was just taking someone down and it just tweaked. From then on, it clicked massively on the inside. Every time I'd go beyond 90 degrees it would go.
"Then I saw a doctor. He asked me first, 'Are you going to continue competing', and I was like, 'Yeah, of course'. Then he said we'd have to do the surgery on Monday. After that, he said if you don't get the surgery, the more you leave it, it could ruin the cartilage in my knee and that would be bad…especially for someone who does this for a living."
Nelson has always been one of the welterweight division's toughest puzzles. His world class ground game is coupled with a tricky, in-and-out karate styled attack on the feet — something which makes him a tough ask for any opponent, particular as Nelson's ranking currently sits at just 14th place.
"They said Masvidal first," he said of the first option the UFC contemplated for Nelson's return bout. "They did throw a few names out there, but I didn't see a lot, but obviously I just wanted to get a ranked opponent if possible. Masvidal said 'no', I think he's going down to lightweight or something.
"[Masvidal] said 'no' anyway, we did expect that, but I was very happy that I got Alex Oliveira because I think he's ranked one above me and he's a great fighter. I was expecting that it might be someone that's unranked. I would have taken it to be honest because at this stage I just want to get in there. It didn't really matter who it was for me. I just told my team, 'Tell me who I'm fighting and I'll be ready'.
"People are choosing and picking a lot more than they were. There are a lot more people thinking about what they are gaining from it and how much of a risk it is compared to those gains. I understand that, and it's probably a lot of the management that take care of that stuff. It is what it is…I'll stick to my ways."
Comments
comments