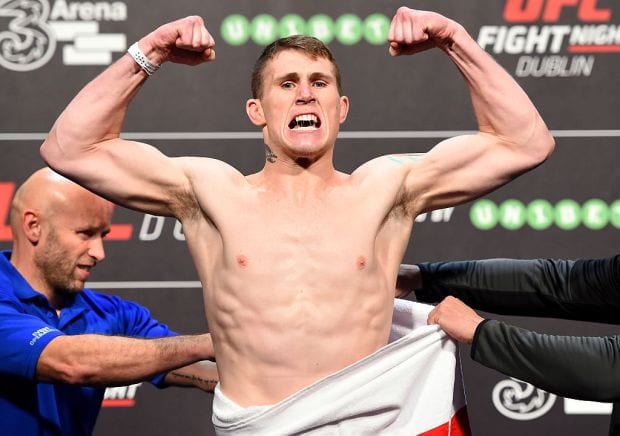 When Darren Till makes the walk in Dallas this weekend to challenge for Tyron Woodley's UFC welterweight title, it will be one of the final times that he does so anywhere near 170-pounds. 
There's no denying that the cut to championship weight is a difficult one for the Englishman, who refers to himself on occasion as a "light heavyweight fighting at welterweight" but it appears more likely that the middleweight division will be his next destination once business is handled at 170.
The issue of Till's weight, and the unenviable task required to get it down, was exacerbated by his failure to make weight for his most recent fight against Stephen Thompson in Liverpool last May. That close victory was enough, coupled with Colby Covington's misfortune, to secure a title bout for Till but he says that if he does win this weekend, he isn't leaving just yet.
"I've said I want to go to middleweight. It's just… I see a lot of guys and they're chasing money fights. They're winning titles and they're calling either the higher or the lower category or they're calling for that super fight.
"When I take that belt, I want to defend that belt and then I want to go up to middleweight, but that doesn't mean that I want to go up and challenge the champion. I would like to earn my stripes in that division too. I feel there are a lot of good guys in that division."
Some were surprised, including Till himself, that he was given a title shot so soon after missing weight in his last bout. He says that if an immediate opportunity at the belt was offered to him at 185-pounds he would accept it, but he would prefer to demonstrate his ability by taking on the top ten en route.
"I believe in life you have to earn your stripes. If I did go to middleweight in the UFC and they offered me the title I'm not going to say no. But I'm saying I'd love to earn my stripes, fight the top five, top ten. For me, going up to middleweight, I'm not focusing on the belt because I know I'm the best; I know I'll win that belt as well.
"I just want to win this belt. I want to defend it; I just want to be able to say that I've defended it. You could be looking at two or three fights at welterweight and then that's me done. I'm 25, I'm not putting my body through this for much longer.
"I'm here today, I'm great. I've got my chef with me and he's doing a fucking perfect job. I feel good. I just want to be able to eat some white rice. I'm just fucking hungry — that's what it is.
"As I'm getting older, I'm starting to see that it's a lot of weight to cut and I don't need to do it. I started at welterweight, I'm going to finish at welterweight and my ultimate goal is to be welterweight champion. In two weeks, I could be making that a reality. After that, I want to defend and then after that it's probably me going to middleweight. That's how I see my future playing out."
Comments
comments