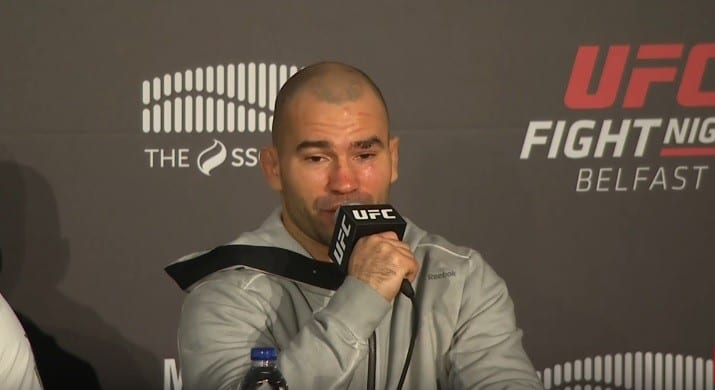 While Artem Lobov may have emerged from UFC Nashville on the losing end, it was virtually unanimous that his performance was something to be proud of.
Fighting Cub Swanson, who was ranked #4 in the division, Lobov went the distance in the first main event of his career, and widely outperformed many expectations. Despite that, the Russian Hammer himself is unenthused by any suggestions he should be happy with his outing.
"I'm obviously upset. I lost," Lobov said, speaking on MMAFighting's The MMA Hour. "I don't really see it that probably that way [that I should be happy]. For me, I was going into the fight to win obviously, that's why I called for the fight. I genuinely thought I could win, obviously I didn't, so I'm still trying to get over that."
While Lobov has yet to sit and watch the fight in it's entirety, he knows that there are still things to work on. That being said, there was at least one silver lining to takeaway. Namely, a successful first round that he won on two of three of the judges card.
"When our energies were level, technique-wise I was able to hang with him no problem," Lobov said. "Now, I have to address me getting tired, I felt I blew my gas very quickly, even though my preparation was very, very good. I'm not sure why, maybe the occasion got to me or I spent too much energy, I don't know what happened there but I slowed down very quickly."
"At one point where we both felt tired, he decided to just push through it and I decided to take a little break or something."
At this stage, especially after publicly campaigning for the Swanson fight so vociferously, Lobov doesn't feel in a position to make any demands of the UFC, although he wouldn't mind a scrap with Doo-ho Choi, who also would come in following a loss to Swanson, both of which were fight of the nights.
Not that Lobov is satisfied with merely being in exciting fights if he's going to come out on the losing end.
"I would never look at any fight like that that. For me, if I'm going in, I'm going in to win," Lobov said.
—
Comments
comments