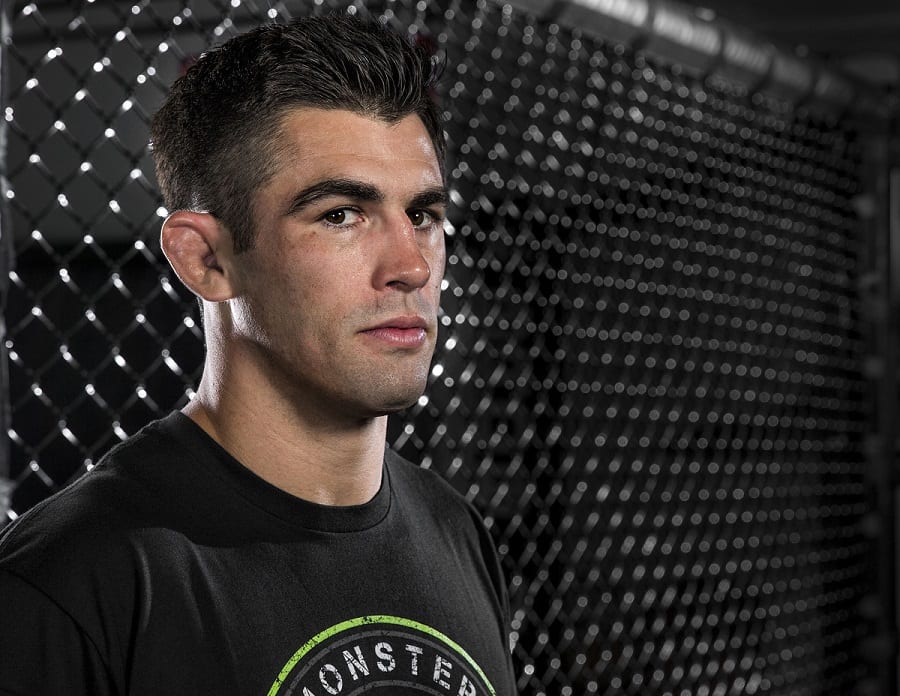 Dominick Cruz, possibly the best and unluckiest UFC bantamweight of all time, is on the shelf again.
The former 135-pound champion had been scheduled to meet John Lineker in the New Year, only to be forced out of the contest after suffering a shoulder injury in training. And unfortunately, according to Cruz, it's not a simple injury he can bounce back from in the matter of weeks.
Speaking with Ariel Helwani on the Ariel Helwani MMA Show, Monday, Cruz revealed he'd been taking every precaution he could to get through a training camp without suffering another setback. It just didn't work.
"The day I signed the bout agreement, literally that morning I signed it, [I] went to spar that morning," Cruz said. "I'm only sparring once a week, I used to spar twice a week. I've done everything carefully to make sure I'm ready for this. I signed that bout agreement, go in there to spar, and I get into my second round. The very end of the second round, I threw a right hand, and as I throw an overhand right I feel [a clicky feeling] in my shoulder. And then I felt my fingers go numb, and right away I knew something was separated because you're not supposed to get blood flow and numbness to your fingers unless it's a detrimental injury.
"So my subscapularis [tendon] is completely torn off [the bone], and my supraspinatus is all the way off the bone."
Unfortunately for Cruz, it's not an injury he can plow through and compete with, as he's already suffered plenty of wear and tear on his shoulders throughout his career. And to be even harder on the former champ, it marks the latest in a long line of injuries that has kept him on the shelf for the prime of his career.
"How I feel is sadness," Cruz said. "Extreme sadness to be honest. It hurts. I want to cry, but I also know that this is a long road that I've had already. I've already been down this, I've had these injuries. You can attach whatever you want to this situation, but it never defeats me and it never will. It's just part of my legacy, these injuries. How many people go through life with problems, and they drop and they get back up. They drop, get back up. That's really all it is. Life is no different for fighting, and that's why I love fighting so much."
Cruz has been out of action since losing his world title to Cody Garbrandt in December 2016. As of yet, Cruz isn't entirely sure on a return date, but believes his injury is comparable to an ACL tear, and therefore has a "rough estimate" he'll be on the sidelines for around a year or so.
Comments
comments