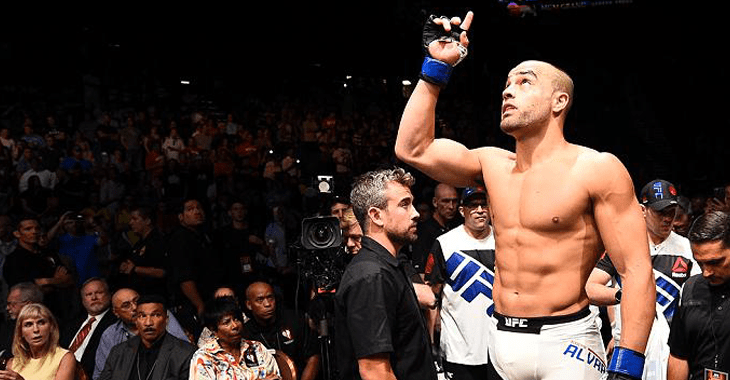 Former UFC lightweight champion Eddie Alvarez has explained why he wasn't in the running to step in on six days notice to face Khabib Nurmagomedov this weekend at UFC 223 after Tony Ferguson's withdrawal through injury.
The opportunity to headline UFC 223 in Brooklyn, New York, was eventually given to Max Holloway, a fighter who hasn't competed at 155-pounds in six years, but despite receiving a call from his manager to make him aware of the potential opportunity, Alvarez says that the advance notice simply wasn't near close enough to have him able to make the championship weight of 155-pounds.
Speaking on Instagram Live, as reported by MMA Fighting, Alvarez said: "Me and my wife were getting ready for Easter and I got a call from Lloyd, my manager. It was April first so just like you guys, I thought it was an April Fool's joke. Then he told me Tony got hurt and when he told me how Tony got hurt, I really thought it was an April Fool's joke, so I'm just as shocked and disappointed as you guys are.
"It would have been great to be ready for that fight and be ready to step in and save the day, but unfortunately, I am way, way too big to make the 155-pound limit on six days' notice. I think most guys at 155, especially in the top five, can't make that 155-pound limit on six days' notice."
Alvarez is something of a rarity among the top 155-pounds contenders in the UFC, given that he currently doesn't have a fight booked. His last performance in which he became the first person to defeat Justin Gaethje has earmarked the Philadelphian as once again being among the elite in the UFC's lightweight division and, as he explained, he is disappointed in himself for not being ready to accept the short notice bout.
"I'll be honest, I'm disappointed in myself a little bit because I kind of had the foresight to see this happening," said Alvarez. "I even talked about it happening but when it got like three to four weeks out, I just said 'F**k it, these guys are gonna fight. There's really no reason for me to be ready.'
"I'm every bit of 190 right now so there wasn't even a small chance that I could make 155. . . I asked about doing a catchweight at welterweight but all they asked me was what's the lowest that I could get to. I'm probably a little more than 190. I'm heavier than I've ever been because I haven't fought in a long time."
That said, Alvarez maintains that six days notice is not enough to prepare to face a fighter of Nurmagomedov's pedigree, though he did reserve praise for Holloway for seizing the opportunity.
"To do it on six days' notice, my hat's off to Max. . . Max Holloway's a f**king beast," he said. "Max Holloway single-handedly ran through his division, fought the best guys in the world, but anybody who's a fighter understands the difference between someone who's in the peak of their training camp and the difference of someone who is just starting their training camp. It's a vast difference. We're not gonna see the real Max Holloway on Saturday. We're just not. as much as we love Max Holloway, and as much as I think the world of him and he's a great champion, we're not gonna see the real Max Holloway on Saturday."
Comments
comments