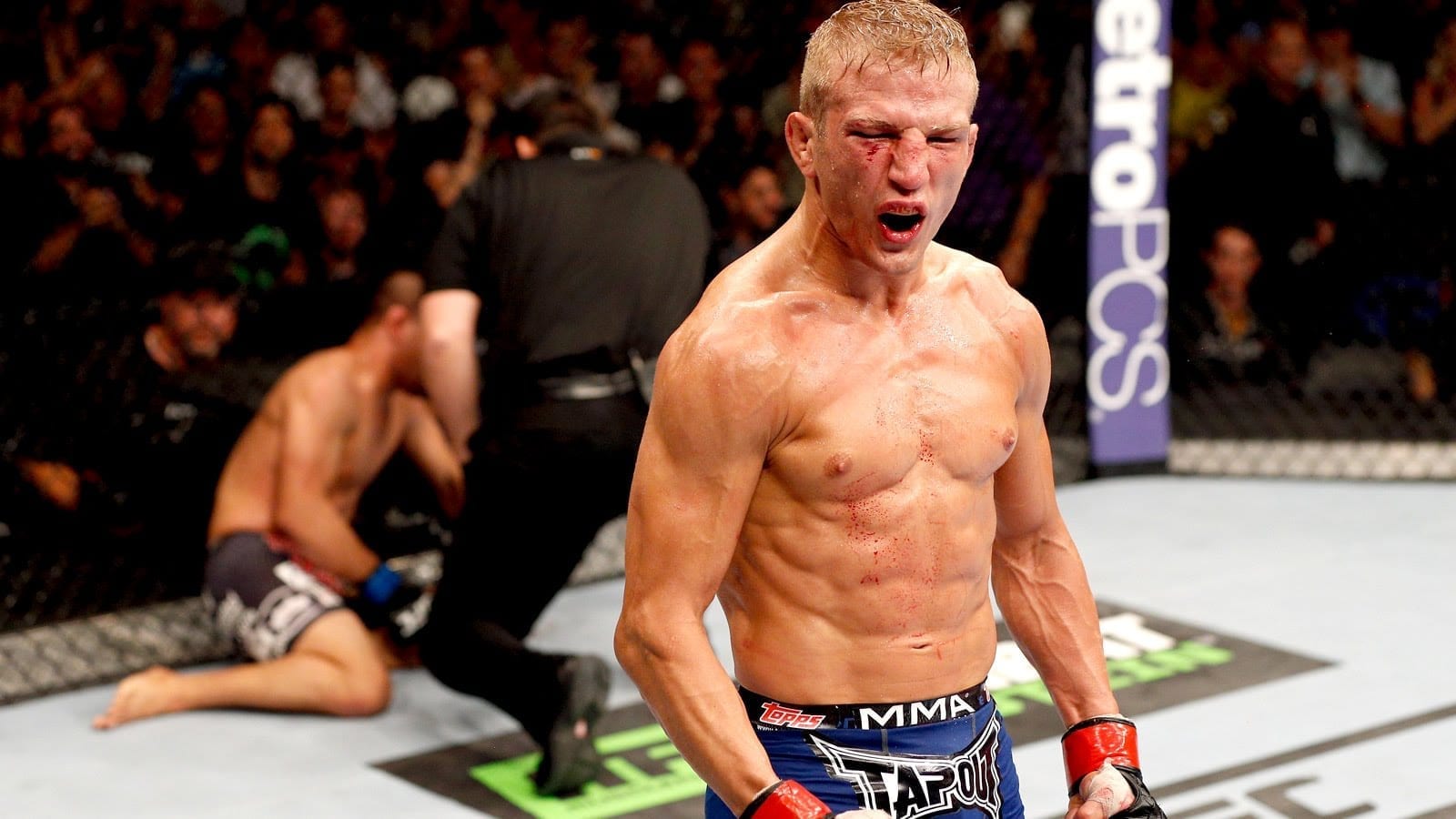 On Saturday Max Holloway will step up a weight class to attempt to become the first man to defeat Khabib Nurmagomedov in the Russian's mixed martial arts career and, in doing so, etch his name indelibly to combat sports history books. 
Whatever happens in the revised UFC 223 main event in Brooklyn, New York, won't be ground that hasn't been walked before. Throughout UFC history, several championship bouts have been subject to last minute changes and, throughout all of them, we have seen champions both lose and defend their titles against short notice replacements. We have seen title bouts get relegated to their non-title equivalent after failed weight cuts and we have also seen some of the sport's most shocking upsets.
Below are five of the most infamous.
Renan Barao (c) vs. T.J. Dillashaw
He is considered by many to be one of the world's top pound-for-pound fighters today but three years ago T.J. Dillashaw was just another contender making his way up the ranks in the UFC's 135-pound division. In March 2014 Dillashaw, a losing finalist on The Ultimate Fighter with a 6-2 record in the UFC, was ushered into top contendership against then-champ Renan Barao, a fighter in the midst of a 32-fight win streak in a rejigged UFC 173 main event mandated by an injury to an original headliner Chris Weidman.
Barao, hailed by Dana White as the world's best fighter, was expected by oddsmakers to have little trouble dispatching the relatively inexperienced Dillashaw but the reality of what transpired couldn't have been any more different. Dillashaw dominated every aspect of the fight before winning by fifth round TKO after what was in essence a 23-minute beatdown of a champion who hadn't tasted defeat in nine years.
T.J. Dillashaw (c) vs. Joe Soto
Dillashaw, now a UFC titleholder, found himself on the other side of the coin in his very first title defense. Scheduled to face Renan Barao in a rematch of their bout from three months prior, this time it was the Brazilian former champion who fell out of the bout on short notice after fainting and hitting his head on a bathtub on the eve of fight as he was in the process of cutting weight.
In Barao's stead was former Bellator champion Joe Soto, placed into a UFC world title bout on one day's notice in his first ever bout for his new employer. After a promising start in which Soto had some success in the pocket, it soon became clear that he was tiring (he had trained for a three-round undercard bout) and Dillashaw soon took over. Just as it began to look as though Soto would survive to the final bell, Dillashaw scored with a high kick and followed up with punches on the ground to earn the win at practically the exact same point of the fifth round in which he defeated Barao some months prior.
Luke Rockhold (c) vs. Michael Bisping
Arguably the most infamous short notice title bout in UFC history, Michael Bisping accepted a middleweight title shot on 17 days notice after Chris Weidman was forced to withdraw from his title challenge opposite Luke Rockhold in the main event of UFC 199 in California in the summer of 2016. Given the manner in which the first meeting between the two rivals transpired in which Rockhold dispatched Bisping via second round guillotine choke, few expected the Brit to have much success against Rockhold in the sequel, particularly given the performance displayed by the AKA fighter in his title winning performance against Chris Weidman the previous December.
Simply put, the predictions were wrong. Bisping rattled the champion with a left hook early in the first, dropping his opponent twice before finishing the fight with strikes against the cage in a fight still remember as one of the biggest upsets in UFC title history.
Daniel Cormier vs. Anthony Johnson
Daniel Cormier was slated to face Ryan Bader in June 2015 but some outside of the cage transgressions from then-champ Jon Jones meant that a new champion was required at 205-pounds. Thinking on their feet, UFC matchmakers paired Cormier and the viciously powerful Anthony Johnson to determine the winner of the now vacant title in May, meaning that Cormier's training camp was to be cut short — and, in Johnson, he would be facing an entirely different (and arguably more potent) threat to Bader.
After overcoming some early adversity in which he was sent to the canvas by an incredible overhand from Johnson within the bout's opening seconds, Cormier's class soon shone through and he controlled 'Rumble' for most of the rest of the bout, winning by rear-naked choke in the third round to claim his first UFC world title.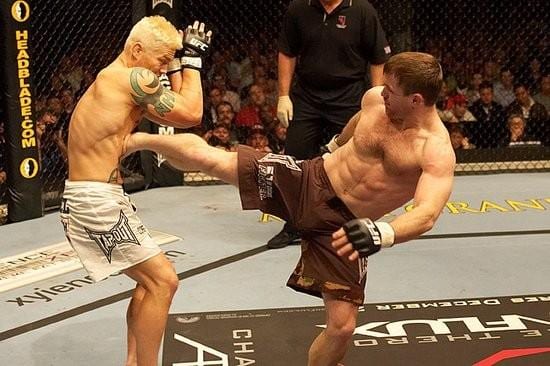 Matt Hughes (c) vs. Joe Riggs
All the way back in November 2005, Matt Hughes was scheduled to make the second defense of what was his second reign as UFC welterweight champion against surging contender Karo Parisyan, a judo practitioner who had put together a UFC run of 5-1 defeating the likes of Nick Diaz, Chris Lytle and Matt Serra along the way. However, on fight week it was revealed that Parisyan had suffered a hamstring injury in training and was deemed incapable of competing.
Step up Joe Riggs. 'Diesel' came into the bout with 10 wins from his previous 11 bouts, including a victory against the aforementioned Lytle just a month before but having accepted the contest on such short notice meant that Riggs struggled to make weight in Las Vegas. After four attempts to make the welterweight championship title limit of 170-pounds, Riggs announced shortly after 5.30pm on the day before the bout that, "I can't keep cutting weight." What followed was the first time in UFC history that a scheduled title bout would be commuted to a non-title bout as a result of a fighter failing to make weight. Hughes won the bout the following day by first round kimura submission.
Comments
comments