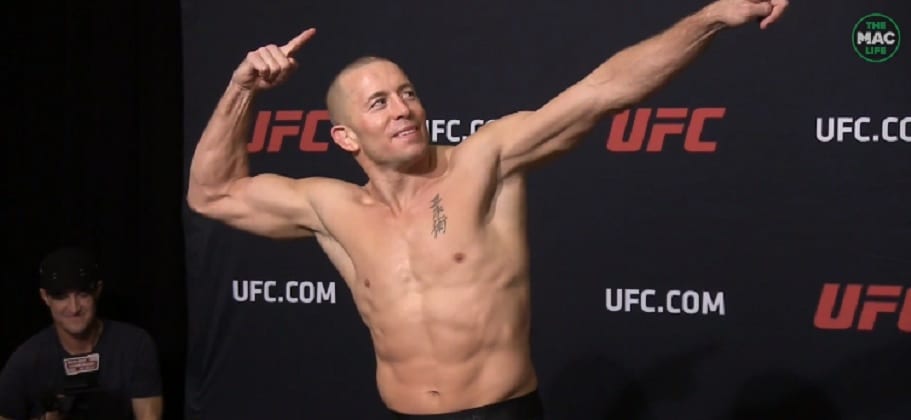 Georges St-Pierre has recovered from his Ulcerative colitis illness and could fight again in the UFC should he so choose. That, however, is just the thing. He's not sure if he wants to.
The former UFC middleweight and welterweight champion has been out of action since vacating his 185-pound world title. In his time away, St-Pierre has spent his time recovering from the serious affliction, and now feels physically able to fight again. But while fans might want to see the Canadian compete, he's not sure it's worth it at the age he's at.
"I'm feeling great physically, in great shape like never before," St-Pierre said, speaking on the La Sueur podcast. "[Ulcerative colitis] is very serious but I've fully recovered from it. I don't need to take my medication anymore.
"I could [fight again] but to tell the truth, it's less and less tempting for me. I did not think I would say that one day: I'm getting older. I don't want to fight a young guy that hasn't made it on the legacy side, that isn't a name. I would have nothing to win. Every time we enter the octagon, it's a risk. you could have a bad day. … We are always a mistake away from the KO or a serious injury., so it's always a risk and the risk must be worth it."
That being said, St-Pierre notes there is one name in Khabib Nurmagomedov that could provide him enough of an upside to strap on the gloves — he just isn't going to chase the contest himself.
"Khabib said that he would like to fight me before the McGregor fight," St-Pierre said. "It did not interest me at that time. He was not famous, he did not beat someone with a title or with a name. Now that he beat McGregor, it's better.
"[But] I'm not the guy who calls out people. It's not my personality. I know people are talking about that fight; however, I know the UFC would not be interested in that fight at 155 [pounds]. They know that I'm at the end of my career. I have not many fights left. I will come back for maybe 1, 2, 3 fights. Maybe zero. Maybe I will not come back and I'm okay with that."
Comments
comments