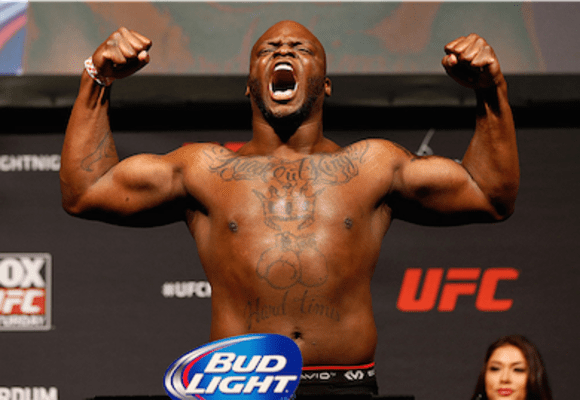 When he fights for his first world title, Derrick Lewis knows he's facing a grinding wrestler in champion Daniel Cormier.
Because of that, Lewis has made sure to start switching things up in his training camp going from his self-confessed 30 minute training sessions to putting in more work — as well as try to improve his often questioned cardio.
"I've been doing nothing but cardio. Even the sex," Lewis said in a hilarious appearance on The Rich Eisen Show. "The sex really been helping my hips. I know Cormier is a wrestler so you really got to get them hips down on him so I've been working them hips really good."
From there, the conversation moved onto the old age conversation of fighters having sex before a fight. For Lewis? No problem.
"Not me. Some times, a couple of times, I had sex the same day as I fought. Just to see if that myth was right, and it wasn't right. But I was sleepy afterwards, but I still had the energy though."
Despite the jokes, Lewis maintains he has skills to get the victory at UFC 230, and fighters putting him down are only doing so because they don't respect his abilities.
"Of course they would say that [I don't deserve it], I guess just because my fighting style. Everyone else is a mixed martial artist," Lewis said. "I'm not a mixed martial artist, I'm a brawler. Basically, I guess they just thinking I've been winning my fights just by luck. I just think I've been winning my fights on heart."
–
Comments
comments