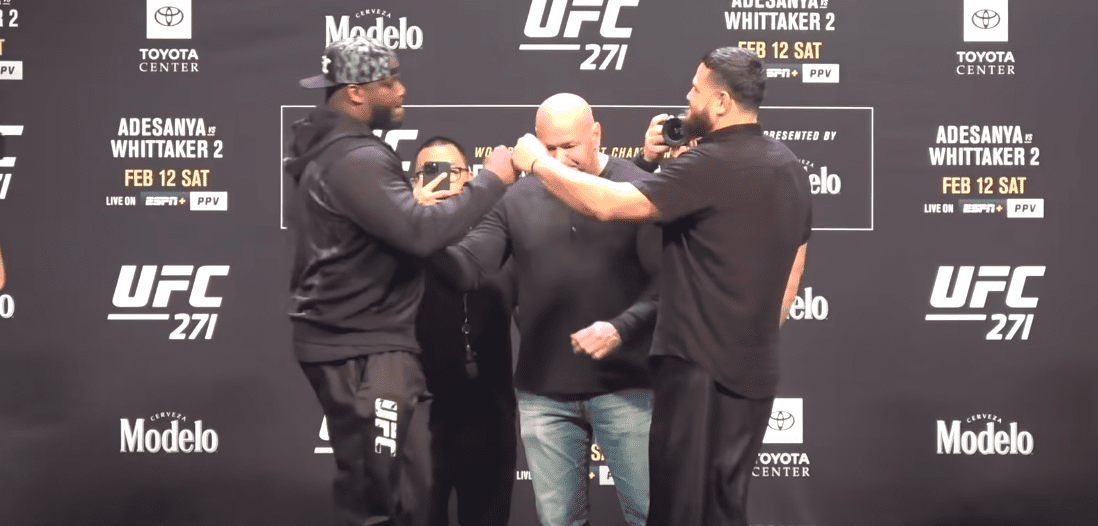 Everyone once in a while, a fight comes along which cannot possibly disappoint. Derrick Lewis vs. Tai Tuivasa is one of those fights.
Of course, we said the same thing ahead of Lewis' fight with Francis Ngannou a few years back but that particular bout was hamstrung from the go due to Ngannou's conservative gameplan. Surely lighting won't strike twice for Lewis this weekend in the UFC 271 co-main event against Tuivasa, one of the heavyweight division's most battled-hardened walk-forward fighters.
And speaking to the media in Houston, Texas on Thursday Lewis said that he is walking into that cage with one goal in mind — but that he will finish Tuivasa "with respect".
"I'm coming to knock his ass out," Lewis said at the pre-fight press conference. "With the utmost respect, though. I respect that man, but I'm coming to knock him out. With the utmost respect."
Tuivasa indicated that he has a similar mindset hours away from the fight, saying that he's "coming to do the same thing, brother."
"Let's swang and bang, then," Lewis shot back. "No more talking."
Tuivasa also stated that he suspects one of these two fighters will end up on the canvas before the 15 minutes have elapsed.
"It's either going to be my head or his head," Tuivasa vowed. "We entertain the fans, so we're coming here to take heads off. That's it."
Comments
comments