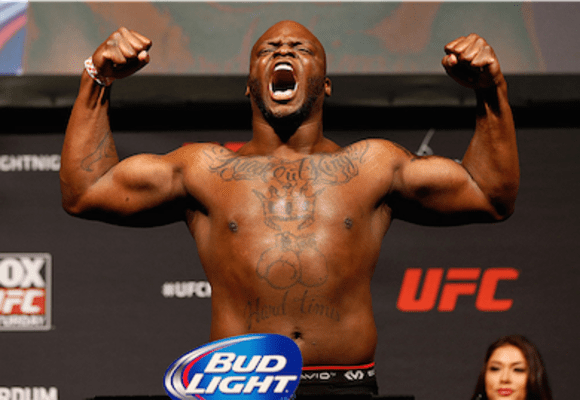 Just hours before UFC 216, fans were left saddened as news slowly emerged that Derrick Lewis had been forced to withdraw from his contest with Fabricio Werdum.
Waking up on fight day, Lewis found an old back injury had flared up, leaving him unable to get out of bed and in serious pain. After waiting all day to see if the pain would lessen, Lewis had to make the call to pull from the event, meaning Walt Harris replaced him in the bout with Werdum.
But if fans were disappointed by the loss of a quality heavyweight clash, that was nothing compared to what Lewis himself was dealing with behind the scenes. Speaking with Ariel Helwani, yesterday, Lewis revealed how heartbroken he was to withdraw from the contest, for a number of reasons.
"For sure, it was real depressing," Lewis said on The MMA Hour. "I took a big hit in my mental standpoint, it is way worse than a loss. It's something that I never experienced and I hope it's something that I never will experience ever again. I'm really in a depression stage right now.
"I ain't gonna lie to you, I was really crying. I haven't cried in years. I was really crying for the first time, my coaches, my wife, everybody was trying to butter me up, but I wasn't trying to hear that, I was really crying."
There are multiple facets for Lewis' disappointment.
Firstly, Werdum was one of the biggest names Lewis would have ever stepped in against. A former world champion, a win over Werdum would have put Lewis (who had most recently been seen defeated by Mark Hunt) back on the map at heavyweight.
Then, there are the financial implications. Due to his pulling out, Lewis was not paid by the UFC for UFC 216, meaning the costs of a training camp went straight into his own pocket. To put in hours of work to face a big named opponent, only for it to be snatched away at the very end? Brutal stuff.
"All of that and knowing that all the work I put in through my training camp and stuff like that, and just to pull out hours away from the fight and knowing that I'm only doing this for the money also," Lewis explained. "Missing out on $300K and not getting anything from it, that hits you real hard too.
"I was crying like a big-ass baby. My coach knew how much this fight means to me and I didn't want to pull out for nothing. My coaches, they all convinced me that it's probably the best thing to do to pull out because they knew I was going through the same problems with Mark Hunt and I didn't pull out in that fight and it cost me."
As of now, Lewis isn't sure when he's going to be able to step back into the cage. Doctors have told him they're prepared to clear him to fight as soon as he informs them that he feels better. Presuming nerve damage, Lewis has had x-rays and MRIs conducted on his back, and is awaiting the results before making any decisions on his next move.
Anything to avoid a last minute withdrawal again.
"Right now, anything is a possibility," Lewis said. "We're just waiting on MRIs right now before we can start my treatment because they want to see what's the issue first. The doctor I talked to Thursday he said that he's willing to release me anytime, it's up to me, but I really want to take the precautions to see what's really wrong with my back. I don't want to happen again.
"Even if it does happen again, I don't want to go through the same feelings I went through pulling out of the fight and all that, going through that emotional mess. I'm still going to fight no matter what."
Comments
comments