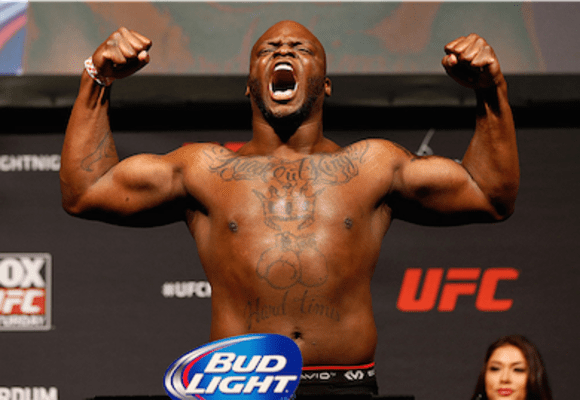 When it was announced that disgraced former NFL player Greg Hardy would compete in his professional debut on Dana White's Tuesday Night Contender Series, not everyone considered it to be a wry promotional mood.
For those who aren't aware, Hardy was arrested in the past for both domestic abuse and cocaine possession. Because of that, not many deem it appropriate for the 3-0 amateur to get a chance to fight in the big leagues of mixed martial arts.
Certainly, UFC heavyweight Derrick Lewis isn't a fan of the idea — or maybe he is, so long as he gets to fight Hardy himself.
"He's a wife beater. I'd like to get in there with him. I like knocking these wife beaters out," Lewis said, speaking with TMZ earlier this week. "Yeah, I'll fight Greg Hardy. It'd be like vice versa of him beating all the women; I'll be beating him like he's a woman.
"I grew up watching my mom and step dad fight watching about every single damn day — fist fighting — for the stupid stuff. I don't tolerate stuff like that at all."
—
Comments
comments