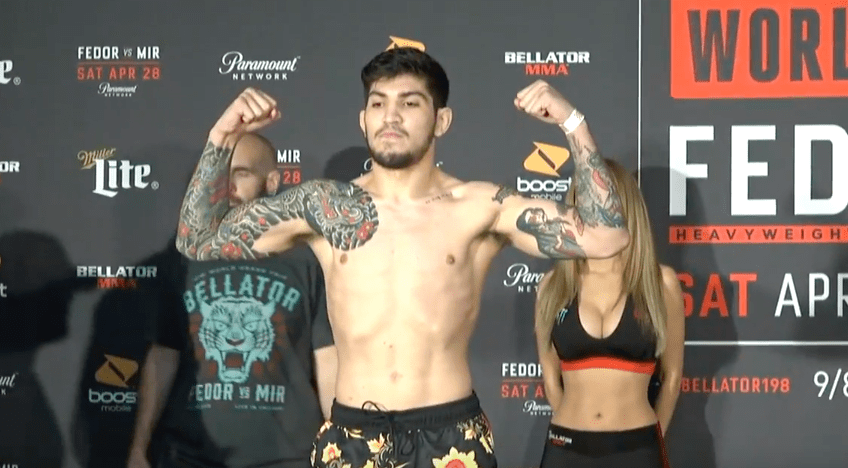 Dillon Danis has successfully weighed in ahead of his much anticipated mixed martial arts debut tomorrow night in Chicago, Illinois.
Danis meets Kyle Walker in a catchweight bout at 175-pounds. Both men made the weight with apparent ease, with them making 175 and 174-pounds respectively. The pair meet in the opening bout on the main card, which starts at 9pm ET on the Paramount Network.
For a debut contest, Danis finds himself with plenty of attention. Outspoken like his friend and mentor Conor McGregor, the jiu-jitsu practitioner has been more than a little confident leading into this weekend's contest, and earlier this week proclaimed it the biggest debut in MMA history.
"I'm very excited," Danis said, speaking with WatchStadium. "I feel that it is the biggest debut in the history of MMA. I'm in this to be a world champion. So it's different because everybody knows this is the real shit. … I like to say, when you're this good, you don't feel pressure."
"At the end of the day, you can promote someone as much as you want to be a star and all this stuff. But if they don't have it, they don't have it. You have to be born with it. Like they say, 'stars are born, they're not made'."
"I feel that it is the biggest debut in the history of MMA." @TheNotoriousMMA's bold attitude has clearly rubbed off on training partner @dillondanis, who is set to take @BellatorMMA by storm. pic.twitter.com/i8ZnddJ2oL

— Stadium (@WatchStadium) April 26, 2018
–
Comments
comments