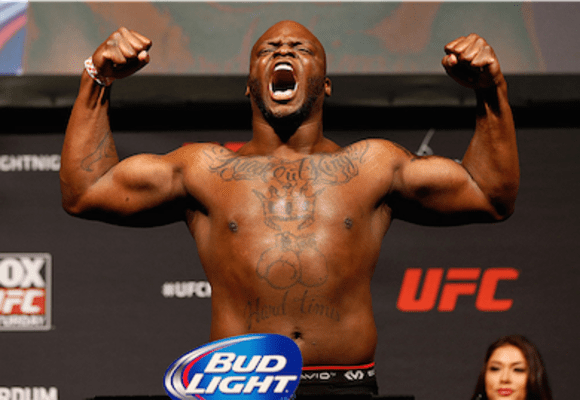 Throughout the history of the UFC, there have been some phenomenal trash talkers — Tito Ortiz, Chael Sonnen and Conor McGregor to name but a few — but none have quite had the style of Derrick Lewis.
The heavyweight has earned himself a reputation of coming out with some eye opening material during his tenure in the UFC, with no topic apparently deemed too much in bad taste. Add that with an exceptional presence on Instagram, and Lewis is pretty much guaranteed to give you gold when he's got a microphone in front of him.
Case in point, his recent appearance on UFC Unfiltered, where he was asked about upcoming opponent Francis Ngannou, who he's set to meet at UFC 226 in Las Vegas. Speaking on Ngannou's recent defeat to heavyweight champion Stipe Miocic, Lewis said he believed Miocic could — and should — have finished the bout instead of going to a decision.
"The thing about that fight is Stipe could've finished that fight a long time ago," Lewis said. "The ref should've stopped the fight a long time ago when Stipe was on top of him. The guy didn't throw any punches after the second round, he didn't throw anything else and once Stipe got on top of him and started hitting him.. you know, if I was in that same situation, I'm not gonna just pepper shot him. I'm gonna let my full load out on him on his face, no homo."
Ngannou and Lewis have something of an interesting rivalry brewing. Ever since he made his name in the UFC Ngannou has been largely dismissive of Lewis' abilities, and despite Lewis constantly voicing his desire to meet the Cameroonian in the cage, Ngannou has been uninterested up to now — something made all the more odd with his taunts at Lewis on social media.
Lewis said I win Arlovski because he's old with 37 but Mark Hunt 43 years old beat he like a baby 😂😂😂

— Francis NGannou (@francis_ngannou) June 11, 2017
Not that Lewis is taking them to heart.
"I don't think he even speak English or understand English that good for me to even remotely get close to getting under his skin," Lewis said. "The trash talking on the internet, he can leave that to his manager or his coaches or somebody.
"They are the ones saying all that shit, because I don't know how he can barely speak English then type all that."
Regardless of the talk, the fight itself promises nothing but fireworks. Ngannou and Lewis are two of the heaviest hitters in the heaviest weight class, meaning from the opening bell there is the potential for an instantaneous knockout.
If that fails to occur, Lewis says, he might deserve his walking papers.
"He ain't gonna have to worry about no takedowns and there ain't no telling that he ain't gonna try to take me down," Lewis said. "I just know that we're going to swing it out and it's going to be a good fight … Na, it can't go bell-to-bell. There ain't no way. If it goes bell-to-bell then I need to be cut."
Comments
comments