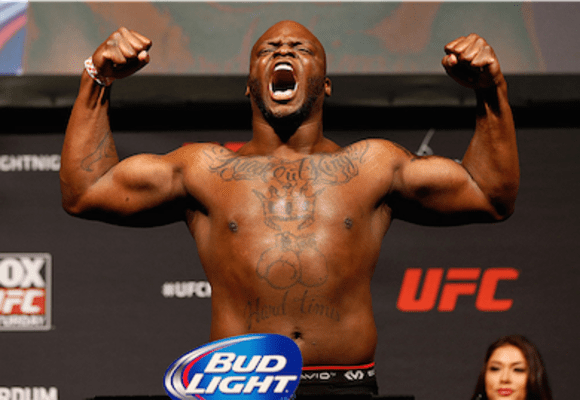 There are few guarantees in mixed martial arts, but when Derrick Lewis and Francis Ngannou throw down inside the Octagon, fans are about as likely to see a knockout as you ever are in the sport — the pair just hit so hard.
But, while it might be seen as just an exciting affair for viewers, Lewis himself is seeing it as a huge opportunity. Ngannou was most recently seen in one of the most anticipated heavyweight title fights of all time against champion Stipe Miocic, where he was heavily promoted as a future star. Because of that exposure, Lewis believes a victory over Ngannou could propel him into a similar stratosphere — although not because beating Ngannou himself is anything to brag about.
"Beating on Francis is really not going to really do too much for me anyway, because the guy got to where he's at right now on luck," Lewis said, speaking on MMAFighting's The MMA Hour. "He fought Overeem. Overeem doesn't have a chin. He fought Arlovski. Arlovski doesn't have a chin. Fight somebody that's tough. Fight a Mark Hunt, somebody like that who's real tough. Don't fight these old guys who are already on the downside of their career."
That being said, don't expect Lewis to fight any more conservatively just because there are higher stakes than usual.
"[A knockout will come in] probably a round and a half," Lewis said. "Most likely, yea. The two minute mark of the second round, tops. … You never know, but there's 100 percent no chance that I'm gonna try to shoot on him."
The two are set to meet at UFC 226 in Las Vegas on July 7.
–
Comments
comments