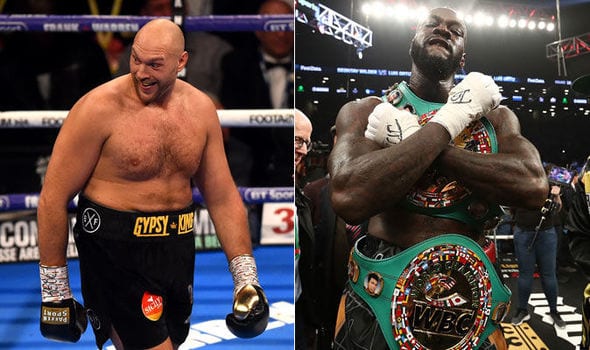 If Tyson Fury and Deontay Wilder meet in a boxing ring and fight this year, it's hard to imagine that Anthony Joshua and Eddie Hearn won't be watching with a grimace.
Both Fury and Wilder offer huge potential paydays for Joshua, each lined with exciting personal edges. But after Wilder and Joshua's teams were unable to come to terms, Fury has, in quick fashion, leapt in to meet Wilder himself.
And according to Wilder, it's not all talk. The fight is happening, and could well take place as soon as December.
"I believe 100 per cent that this fight is going to happen and it's going to get done," Wilder said, speaking to The Ring. "We're very, very close. Closer than Joshua and me could ever get in a lifetime. It's definitely gonna happen, there's no doubt. There's just a little more work to be done.
"Me and Fury, we talked with each other back and forth; I think he's a great guy, we have a relationship together, and my team has a relationship with his team."
All three heavyweights — Joshua, Wilder, and Fury — are undefeated. Should Fury and Wilder step through the ropes, Joshua will almost certainly see one of his potential paydays handed their first 'L', and as such potentially remove some hype when he faces them himself.
Wilder says, however, that Joshua is irrelevant in the discussion, and his ability to get a deal done with Fury proves who the real challenge is.
"This is going to be better than Joshua when it all boils down to it … and we know Tyson Fury, in many eyes, is still the champ, he hasn't been defeated," Wilder said. "He's still undefeated. He's still the lineal champion. Once I knock him off, I become that man who beat the man.
"He's a guy that's ready to go, he's seen what's been happening to me with this whole situation, and he's disgusted because Joshua is British as well, and they see he didn't want to fight. So he's being a man, stepping into my backyard and doing something their other so-called champion wouldn't do, so mad respect from me."
"It's going to be a helluva fight, this guy's not scared, he's coming to America to fight in my house."
Comments
comments