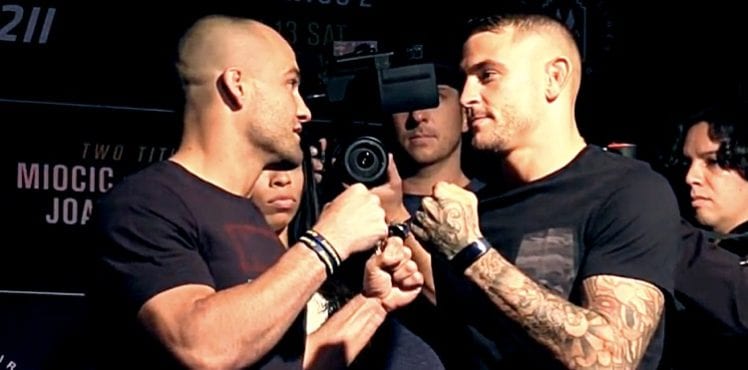 In mixed martial arts, an antiquated rule states that a fighter may not raise their arm and directly lower it down to use an elbow as a point of attack, also known as in a 12-6 direction (like a clock face).
And during his bout with Dustin Poirier last weekend, former UFC lightweight champion Eddie Alvarez was reminded the hard way.
As Alvarez had Poirier pinned against the cage, he fired off two of the illegal blows, forcing referee Marc Goddard to halt the action and stand both men up. Shortly thereafter, Poirier took advantage of being stood up and won the fight.
But while Alvarez was the man who landed the errant elbow, it was his coach Mark Henry who caught viewers' eyes. Henry was seen visibly calling for Alvarez to throw an elbow, and in doing so physically acted out a 12-6 direction. That, Henry says, was his mistake.
"If you're going by fault, [on a scale of] one to 10, I'd give it a thousand — my fault," Henry said, speaking on The Ariel Helwani MMA Show, Monday. "I'd say definitely it was my fault."
"The first gesture you can see from me is 100 percent the wrong gesture. I wanted him to know we wanted elbows. The second [gesture], you can see me kind of slapping the inside of my elbow. That's the elbow I wanted.
"I'm not stupid — you can't do a 12-6," Henry continued. "But it is what I showed. Eddie did look at me at the time. It's 1,000 percent my fault. It's a shame. I definitely let Eddie down and my team down."
–
Comments
comments