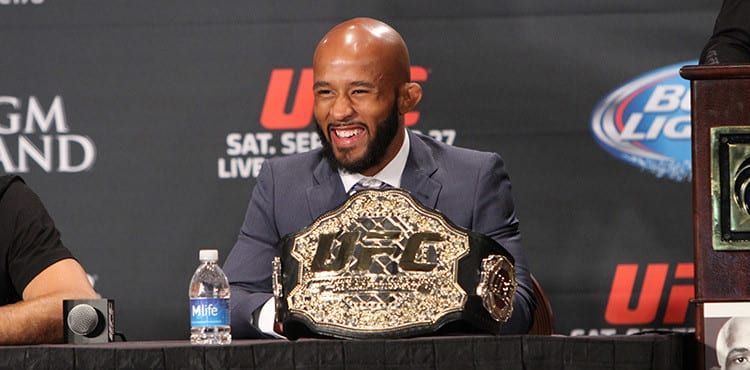 The UFC's return to Canada will bring with it two title fights, as UFC flyweight champion Demetrious Johnson faces Ray Borg, and UFC women's bantamweight champion Amanda Nunes faces Valentina Shevchenko in a rescheduled bout from UFC 213.
The bouts will headline UFC 215, which takes place September 9 at the Rogers Place in Edmonton, Alberta. The news was first reported by Canadian outlet TSN.
The announcement puts an end to two ongoing sagas.
Firstly, Demetrious Johnson's ongoing feud with UFC boss Dana White over the choice of number one contender for his title. The promotion and champion had been publicly battling after T.J. Dillashaw was suddenly introduced as a potential challenger — much to Johnson's chagrin.
In the end, it appears as if the recent ESPY fighter of the year winner will face Borg, the contender he had consistently declared as the right choice. Should he win, he would hold the record for most ever consecutive title defences in the UFC.
It also should end the issue of Nunes and Shevchenko's rematch. The two were originally set to meet each other in the main event of UFC 213, only for Nunes to withdraw from the contest on the day of the fight. White had said in the immediate aftermath that he would not be willing to place her as a headliner again in the future.
As such, Johnson will be top of the bill.
Comments
comments