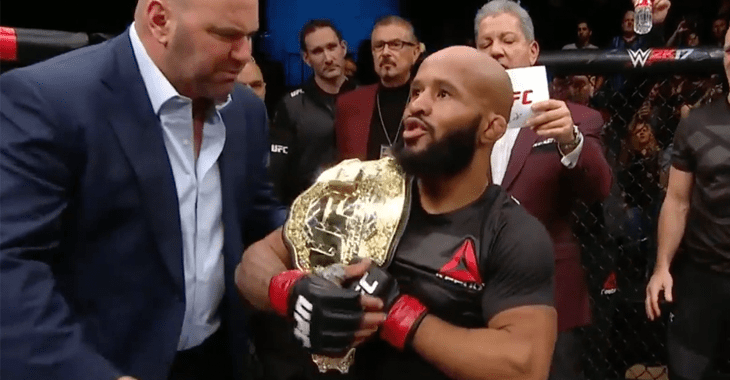 He might be of small stature, but Demetrious Johnson appears to be getting into a big fight with the UFC.
Earlier today, the UFC flyweight champion posted a lengthy statement to his social media, heavily criticising the UFC for what Johnson considered to be bullying tactics in negotiations in an attempt to put together Johnson vs. T.J. Dillashaw.
And, speaking on The MMA Hour with Ariel Helwani, Johnson revealed that things between himself and the UFC has reached such a contentious level that the promotion have threatened to simply put an end to the 125-pound division should Johnson refuse to accept the bout.
"I said close the motherfucking division then," Johnson said. "Because if somebody is willing to do that, that just shows you that they have no interest whatsoever of working with the champion. I never missed weight, always showed up on time, did all of my interviews on fight week, traveled to Australia in coach two times for the flyweight division. I've done a lot.
"I respect the UFC saying, 'Hey, we're gonna close your fucking division, take T.J. to fight,'" he continued. "Sounds good. Here's my stance: Go ahead and fucking close it. Like I respect them being honest and straightforward with it. But don't expect me to be, 'OK, I'll take the TJ fight if you're gonna close my division.' No, no, no, no. That's not how it works. What have I been doing the last five years in this division? Trying to make it the best division in the world."
Comments
comments