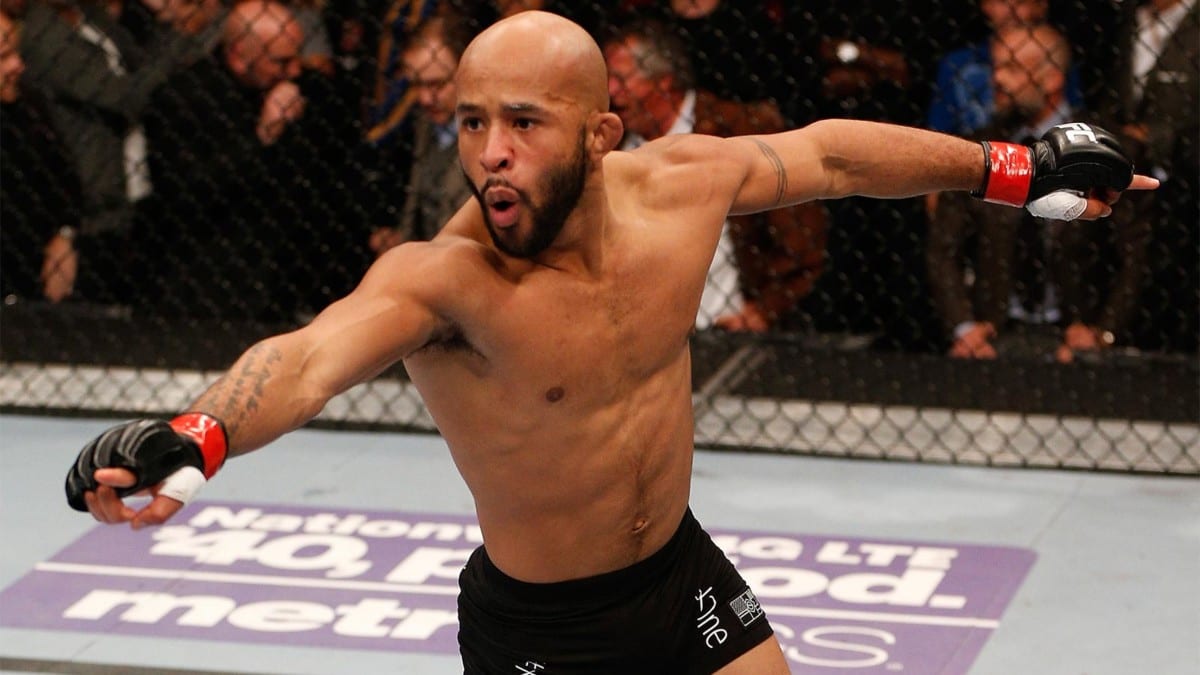 Although he has recently walked back on the rumours, Floyd Mayweather ignited speculation about a potential crossover to mixed martial arts recently by saying that he could earn "$1 billion" if he was to sign a four-fight deal with the UFC. As unlikely as this seemed, UFC president Dana White then added fuel to the flames when he noted that he was in "real talks" with Mayweather.
While you can't rule anything out in prizefighting it appears unlikely at best that Floyd Mayweather will ever set foot in an octagon but this hasn't stopped several notable names in the UFC from calling out the undefeated boxer if does indeed intend to switch codes.
The latest? UFC flyweight champion Demetrious Johnson.
@floydmayweather 🐐 vs 🐐 I'll move up 20 pounds to welcome you proper pic.twitter.com/R400vMz0dX

— Demetrious Johnson (@MightyMouseUFC) December 20, 2017
Johnson issued the above challenge this week but later amended it, saying that he would accept a bout with Mayweather even if grappling was outlawed. Even with some of his primary tools removed from the equation Mayweather, Johnson says, wouldn't pose any risk to him.
"I think it would go very well for me, obviously," Johnson said to TMZ Sports as reported by MMA Fighting. "I'm very well-rounded. It's mixed martial arts. I would even do a handicap. I won't even grapple with him. I won't even go to the ground at all. I'll get him in the clinch, bang up, hit him in the liver, kick him in the liver, take out his legs and work him.
"100 percent [I would win]," said Johnson. "Yeah, of course. You have the clinch, there's kicks, there's elbows, it's mixed martial arts. I come from one of the great coaches – Matt Hume, Brad Kertson – and my skill set is well-rounded.
"I'd probably get after that liver. Have to get after that liver. Beat him up in the Muay Thai clinch because he likes to clinch a lot. You see it in his boxing, when he clinches, once we initiate that clinch, I'm gonna throw a knee right to his liver."
Johnson, the UFC's 125-pound champion since 2012, and holds the UFC record for the most title defenses (11). He last fought in September of this year where he scored a stunning armbar submission win against Ray Borg — the fourth such victory of his UFC career.
With that particular finish not an option in this hypothetical match-up, Johnson remains confident nonetheless.
"Floyd, come over here and beat up the smallest guy in the UFC," he said. "Come try your hand, try to beat up the smallest guy."
Comments
comments