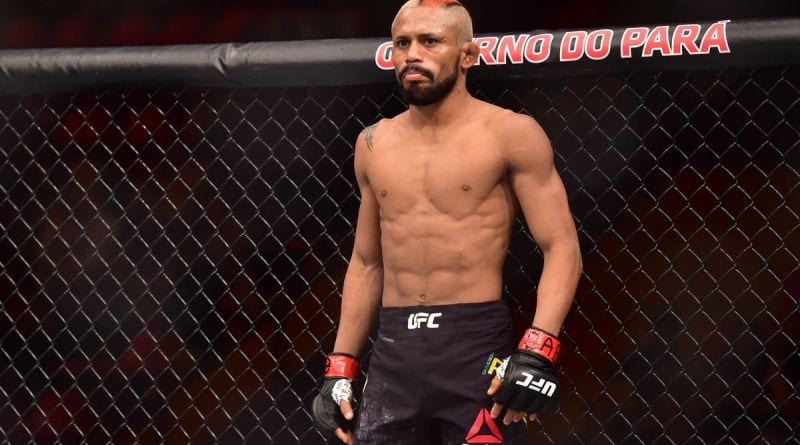 The UFC has a new champion at 125-pounds and their first male Brazilian champion in quite a while, after Deiveson Figueiredo dominated Joseph Benavidez in the UFC Fight Island 2 main event to win the fight by first round submission.
The headliner was a rematch of a February matchup between the two fighters which was also won by Figueiredo, however he missed weight in the lead-in to the fight — which also saw its finish come shortly after an accidental head-butt appeared to stun the American fighter.
This time though, the result was perhaps even more decisive.
Figueiredo knocked Benavidez to the canvas three times within the first round before finishing the fight by rear-naked choke submission — the first submission loss on Benavidez's career record. The finish came shortly after the third knockdown, with Figueiredo advancing to mount and showering his opponent in strikes. He then managed to snake his arm underneath his opponent's chin, leading to the fight-ending choke.
"I'm a guy from Marajo island in Brazil, the Amazon region. I'm used to growing up with all the wild animals. I think I got some of that from them. I'm a ferocious guy in the Octagon," Figueiredo said post-fight.
"I knew my time was gonna come," he told commentator Paul Felder. "This is my time. I'm gonna continue to defend my belt and I'm gonna be an active champion. That's really what we worked for. We've been saying all week we wanted to finish the fight, wanted to put that first submission loss on his record. I finished him in the first round."
Figueiredo improves his record to a very impressive 19-1 with the win, and sets himself up as the new standard-bearer at 125-pounds.
Comments
comments