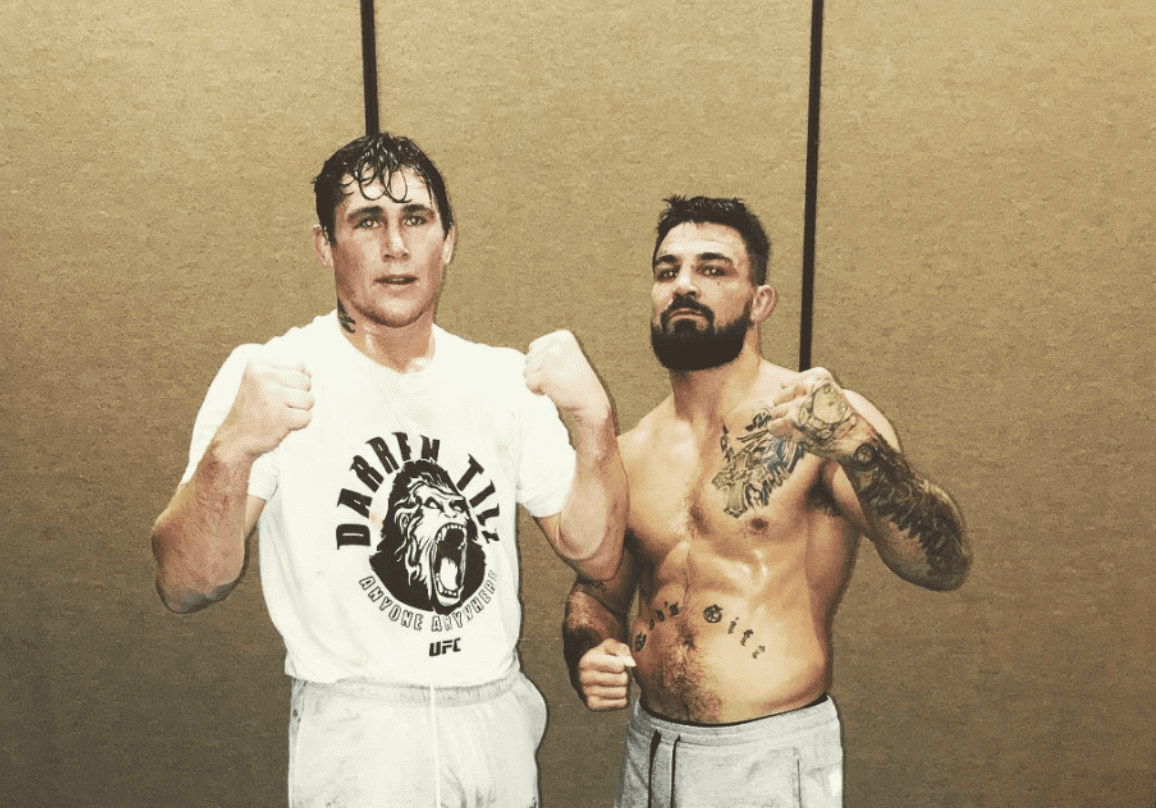 The Darren Till-Mike Perry rivalry is back in full swing.
The pair have long had an odd dynamic, with a mutual understanding of both respect and insults — although Perry appeared to grow tired of Till's attitude earlier this year when the Liverpudlian coined the phrase 'Raw Dog' in regards to Perry's girlfriend (and corner woman).
Now, with Perry apparently auctioning off a position in his corner for his upcoming fight with Robbie Lawler, Till has emerged to heckle his rival and is apparently willing to bid thousands to ensure he's the man offering advice to Perry on fight night. In fact, he's even started a GoFundMe.
Outside of that, however, the duo have spent the majority of their Tuesday night engaged in a war of words — most of which revolved around on Perry's girlfriend.
You are probs right, I won't have tine to throw the towel in. #RawDog https://t.co/t5YowGr4ym pic.twitter.com/FUaWUv2SfG

— D (@darrentill2) October 6, 2020
Let's see some pictures of your baby mamas @darrentill2 ? Wouldn't wanna break the social distancing rules with those creatures I bet…

— Platinum Mike Perry (@PlatinumPerry) October 6, 2020
Future baby mama right here https://t.co/57w7W4Hypq pic.twitter.com/qeOZl9kbdn

— D (@darrentill2) October 6, 2020
Baby mama 2 https://t.co/57w7W4Hypq pic.twitter.com/kn93fTdprI

— D (@darrentill2) October 6, 2020
I know my baby mama is a dream come true. They call Till gorilla because his baby mamas look like gorillas. https://t.co/1DuIUau9Hn

— Platinum Mike Perry (@PlatinumPerry) October 6, 2020
Man y'all are so pathetic. Y'all choking on @darrentill2 dick. England is so old and shit y'all got nothing better to do but day dream about American girls Cuz 1. They have teeth. English breath smells worse than anal sex. pic.twitter.com/0ipTLxG8u1

— Platinum Mike Perry (@PlatinumPerry) October 6, 2020
Nobody in England posts their girl friends. Wonder why ? They all post mine and talk about mine lollll that's why y'all are the only ones who use the word wanker becuz it's all you do. Wank off to pictures cuz the birds on that side have the flu 🤢 😂

— Platinum Mike Perry (@PlatinumPerry) October 6, 2020
–
Comments
comments