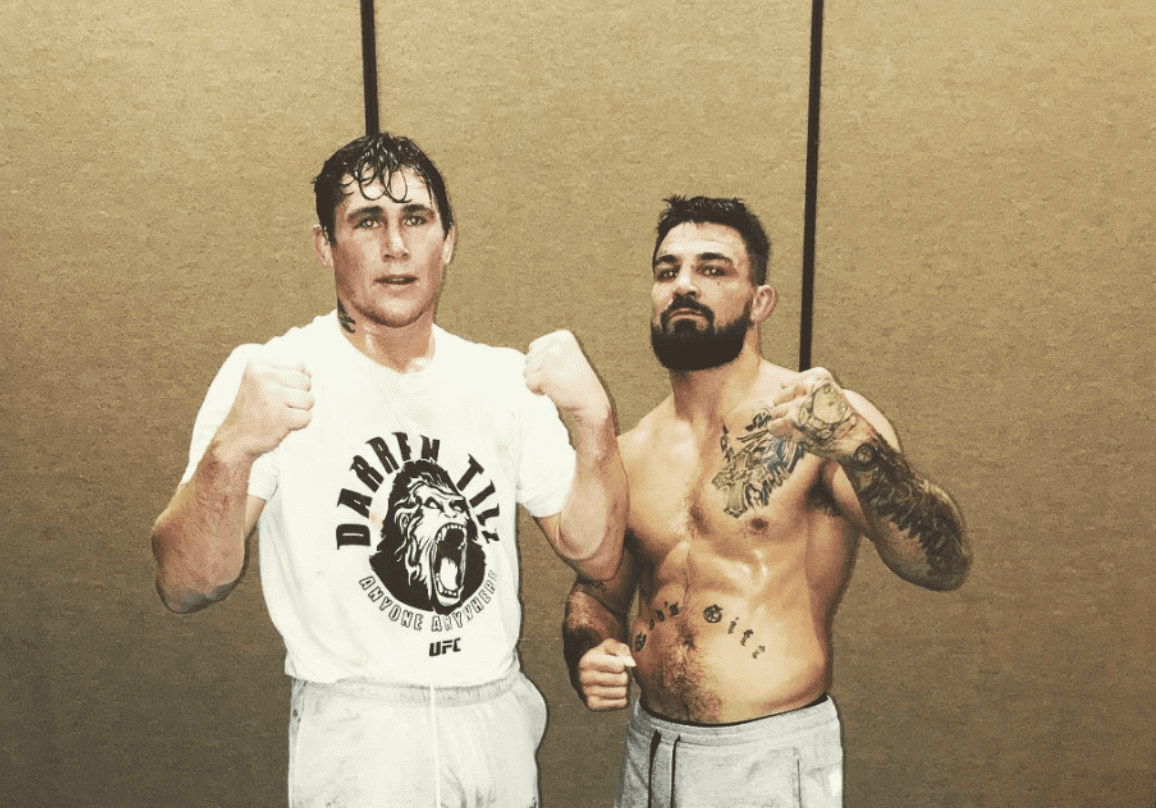 Darren Till is reportedly "deadly serious" in his desire to corner his 'frenemy' Mike Perry after he launched an online auction in which he invited fans to bid cash to become Perry's cageside assistant. 
Perry infamously didn't have a traditional corner in his last fight, instead relying on his partner Latory Gonzalez to offer him words of encouragement and provide him with icepacks in between rounds in his last fight against Mickey Gall. While Perry was mostly mocked for his non-traditional approach, it paid off in the cage when Perry was given the judges' nod on the scorecards.
Perry is scheduled to face former welterweight champion Robbie Lawler in what should be a fan-friendly fight in November and in keeping with his non-traditional thinking when it comes to his corner, he offered fans the opportunity to bid for the honour.
Whoever gives me the most money can be in my corner with @latory_g ,…

— Platinum Mike Perry (@PlatinumPerry) October 4, 2020
"Whoever gives me the most money can be in my corner with [Latory Gonzalez]," he wrote on Twitter on Sunday.
One man from whom he may not have expected a response is his former rival turned friend turned rival again, Darren Till. The two fighters have engaged in an numerous back-and-forth exchanges on social media in recent years, leading to Perry blocking Till from accessing his social media accounts —  but as soon as Till became aware of Perry's offer, he couldn't help but throw his name into contention.
"I will pay 5k?" Till wrote on Instagram, alongside a photograph of Perry sporting a broken nose following a loss to Vicente Luque. "Someone tag Perry for me please because I'm still blocked, but I'm deadly serious."
Till has taken shots at Perry numerous times in recent months, even going so far as to create the bespoke website MikePerryIsABum.com.
Perry apparently doesn't see the funny side, saying that he is prepared to "go to jail" for what he will do the next time he sees Till face to face — which is what would make Darren Till cornering Perry in the UFC absolute must-see TV.
**UPDATE**
It's pretty much a done deal. Darren needs to cover costs of travel and it's done. https://t.co/J7OOVupqhJ

— Ibrahim Kawa (@Abraham_kawa) October 6, 2020
Perry's manager, Abe Kawa of First Row Management, has commented on the issue to say that the deal for Till to corner Perry is "pretty much a done deal" so long as Till pays the necessary travel fares.
**UPDATE #2**
Now that I'm in @PlatinumPerry 's corner,
How much will someone pay me to throw the towel in.?
😂😂😂😭😭😭

— D (@darrentill2) October 6, 2020
Darren Till has now commented on the ongoing story, asking fans how much they would pay for him to throw in the towel during Perry's fight with Robbie Lawler.
Comments
comments