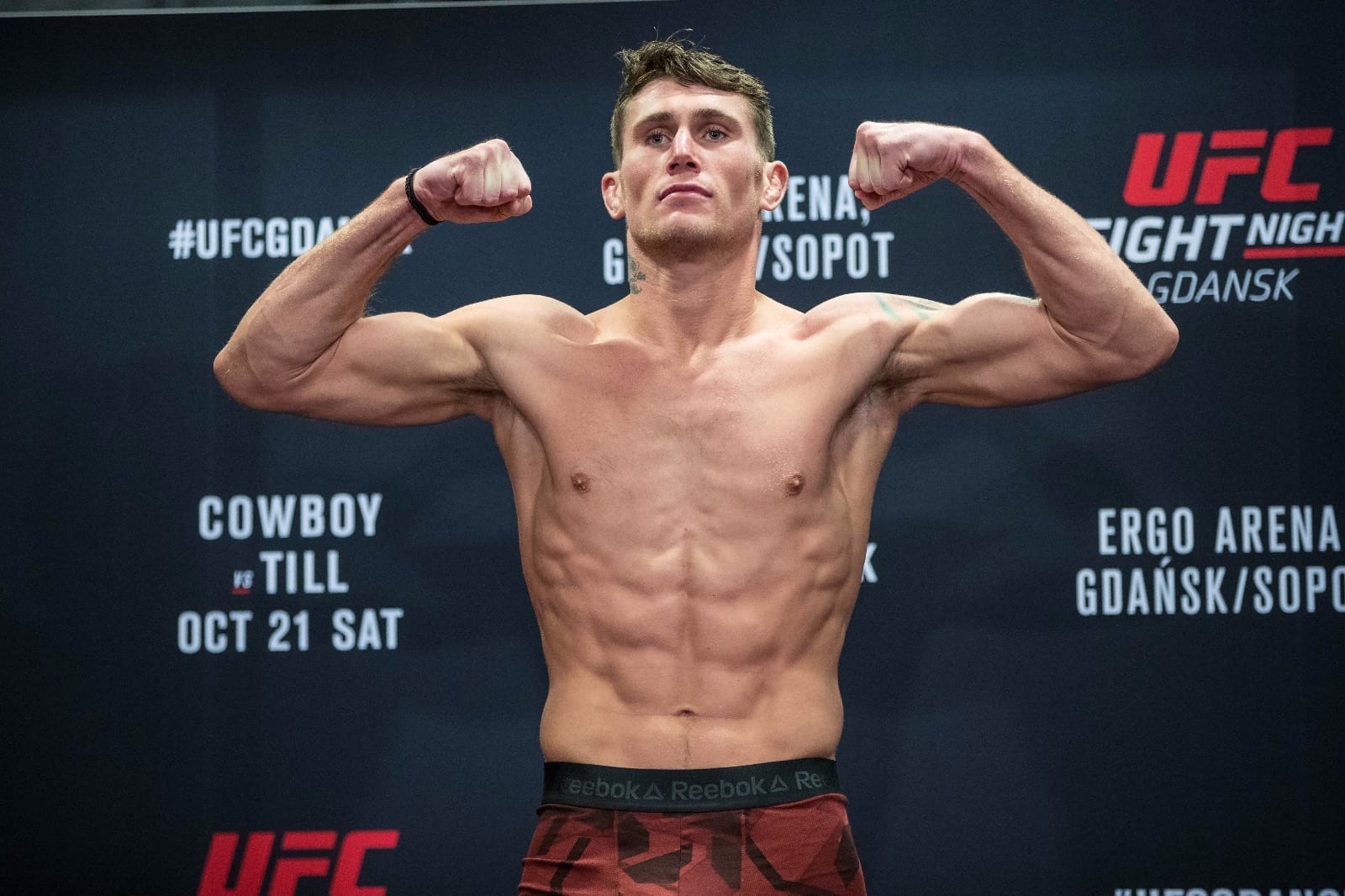 The weight drama is over and fight night can begin. Darren Till has made a pre-agreed weight limit of 188-pounds in Liverpool, and his main event with Stephen Thompson can continue without any more negotiations required.
Till was originally meant to hit the scales yesterday morning at 170-pounds, only to miss the mark by 3.5-pounds over the allowance. At that point, Thompson's team begun negotiations, before agreeing that Till would surrender 30% of his purse and weigh no more than 188-pounds today at 1pm.
In the end, Till did just that, stepping on the scales and making 187.3-pounds in front of Thompson's representatives and various officials. Afterwards, Till walked past media in attendance and informed them that he felt "good."
Yesterday in an interview with MMAJunkie, Till had alluded to the fact that even the new weight aim could still cause him issues.
"I offered 100 percent [of my money], and they were adamant I had to weigh in 83-85 kilo [182-187 pounds], which is just – it's bad for me health," Till said. "We'll see what happens in the morning when I weigh. I've already started drinking. I've already started filling back up.
"So we'll see, I'm sure the fight's on. I'm gonna have to work miracles. I'll have to train tonight or tomorrow, but I'm not arsed. I'm mentally prepared for anything. Nothing gets to me in this life. If I do have to train in the morning to make the weight and cut again, I'll do it.
"Eighty-five kilo tomorrow morning is just not enough. It's not that it's not enough. It's not that I'm sitting there gorging, I just put weight on so quick. I've got a slow metabolism. I just started drinking before, and it went up like that. So, we'll see. We will see. It could be a mind game, I know he's speaking to his nutritionist. So we'll see. If I have to make the weight, I'll make it."
Luckily for all involved, those turned out to be unnecessary concerns by the man himself, and (for today at least) there is to be no more focus on Till's weight, and instead fans and pundits can turn to the fight itself. UFC Liverpool kicks off at 3:30pm local time, with the main card beginning at 6:00pm.
The card had been billed as a historic event and a triumphant homecoming for Till, much in the vein of UFC Dublin and Conor McGregor back in 2014. While a victory this evening could still provide him with the biggest win of his career, the topic of Till's weight feels to be an ongoing discussion.
Comments
comments