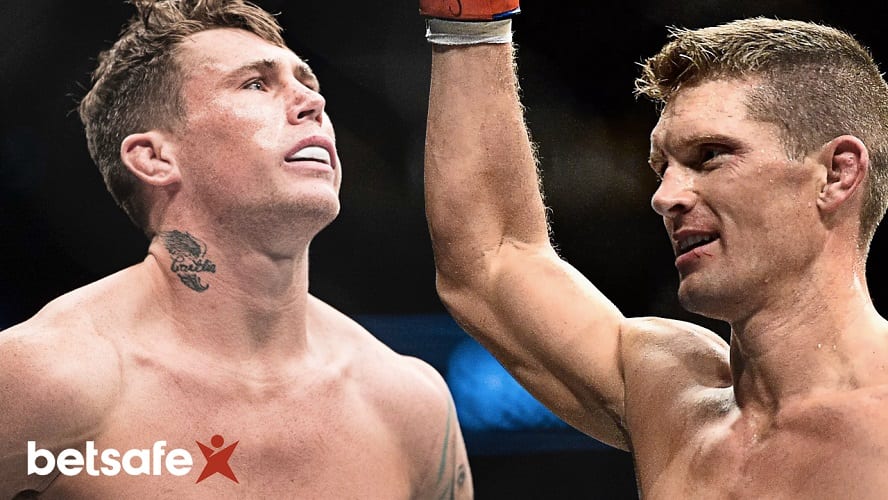 The status of the UFC Liverpool main event between Stephen Thompson and Darren Till has been made a little more opaque after Till missed weight on Saturday morning by 3.5-pounds.
As a result the Liverpudlian must tip the scales at 1pm on Sunday at no more than 188-pounds to proceed with the fight as planned. For Till, one of the division's larger welterweights, this could be an issue, as it has robbed him of well over 24-hours worth of rehydration and recovery from the his ill-fated cut.
Will this have an impact on Till's performance? He will tell you no but the reality of the matter is that he will be that bit more dehydrated than Thompson, hardly ideal preparation for the biggest fight of his life.
Inside the cage meanwhile, Till is a whirlwind of violence. Undefeated as a professional, he is about as creative a striker as there is in the welterweight division. Excellent at dictating the range of a fight, his mobile footwork allows him to pick and choose when exchanges take place. His one-two (first a right, followed by a thunderous left cross) is a trademark weapon and present in most of his fights, as is the vicious elbows he throws when he senses blood in the water or if he has his foe pressed up against the cage.
Till's opponent on Sunday, Stephen Thompson, will not be overawed by the occasion. 57-0 as a kickboxer, Thompson has seen everything type of striker imaginable. He will have fought people with Till's brand of self-confidence. He has fought in 'enemy territory' before. Do not count on the two-time world title challenger being out-psyched by the occasion at hand.
For all of Till's opportunistic aggression in the cage, Thompson is a more methodical fighter. He prefers to read the fight and wait for situations to present themselves more than Till does, but when he seizes the moment if often is the beginning of the end. His array of kicks is unrivaled by anyone in the division, so much so that some of his side kicks and front kicks are thrown more as a jab than anything else.
Whoever can manage to implement their game first will have an advantage on Sunday. We suspect that Till will be the aggressor early, forcing Wonderboy to fight on the back foot. Till's leg kicks will be crucial, too. If he can neutralise some of Thompson's kicking game it will clear an easier path to victory. For Thompson, he will want to stay calm, frustrate his opponent and slowly but surely begin to outpoint him as the rounds wear on.
The closeness of this particular fight is reflected in the Betsafe odds (at time of writing). Thompson is listed at 11/15 while you can get a price of 21/20 on Darren Till.
Comments
comments