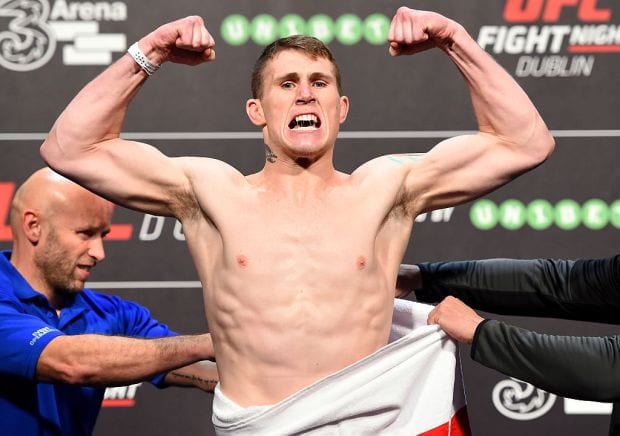 Darren Till's motivations are simple: to be remembered as the greatest fighter who ever lived.
Till marks his fifth UFC appearance this weekend in Gdansk, Poland, with a main event slot against veteran fighter Donald Cerrone in what will be the sternest test of the 24-year-old Liverpudlian's mixed martial arts career but, as Till explained to MMAJunkie's John Morgan, he is finally fighting at a stage which befits his talents.
"I'm not excited," Till said. "I'm not getting into my emotions right now. I've been saying this for the past few weeks: I just live in the moment. I'm seeing my face on the poster, but it hasn't hit me yet. That that is me and that I'm fighting Cerrone.
"I'm just living every moment. I'm not taking anything for granted because opportunities like these only come around every so often, especially after I only got four fights in the UFC. It takes guys 10 fight-plus to get main events. So I'm honoured. I really am.
"I want to be remembered as the greatest fighter that ever fought in MMA."
Till's status is that of an underdog coming into Saturday's event in the Ergo Arena. His opponent, Cerrone, is among the UFC's most experienced fighters and will tie Michael Bisping's all-time UFC record of 20 wins if he is successful this weekend. Prior to the bout, Cerrone made no bones of the fact that he had never heard of Till before receiving a contract to fight him. While some might perceive that as mind games leading into a bout of this magnitude, Till says that he understands where Cerrone is coming from.
"Why should he know who I am? He's got no reason to," Till said. "Everyone thinks that I took disrespect to that. No, I didn't. The guy has got no right in knowing who I am. Obviously, he knows who I am now."
"I came up watching him when he was fighting in the WEC, all of his UFC fights," Till explained. "I'm a fan. But I am still going to knock him out on Saturday. I respect him. After the fight he can have a Budweiser with me. But I will go in there to knock him straight out. That's what I will do."
Comments
comments