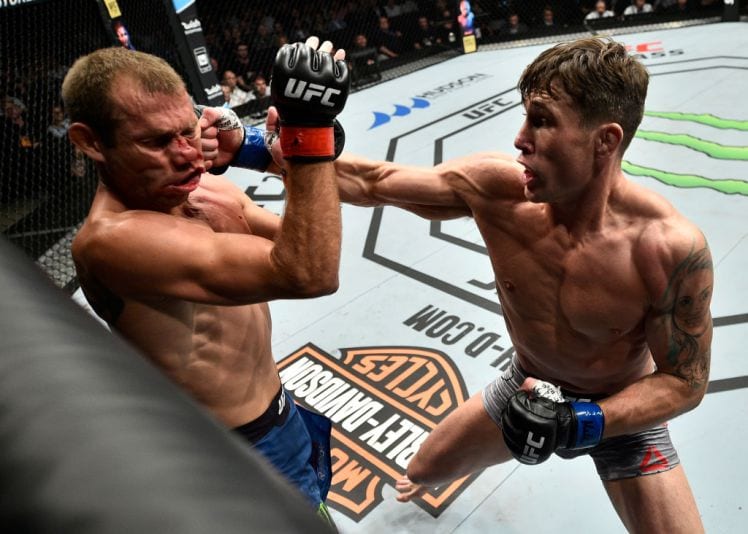 The UFC is considering stripping Colby Covington of the interim UFC welterweight title and instead having Darren Till face Tyron Woodley for the 170-pound championship in September, per a report from ESPN's Ariel Helwani.
The organisation had been hoping to book a Woodley vs. Covington bout as the main event of UFC 228 on September 8th, per Helwani, but Covington in unable to make that date for unknown reasons and is now at risk of being stripped of the interim belt he won by defeating Rafael Dos Anjos in a five-round unanimous decision in June.
This has led the UFC to consider moving Darren Till into a world title bout opposite Woodley. Till, who is undefeated in his professional career, defeated former two-time world title challenger Stephen 'Wonderboy' Thompson by close decision in his hometown of Liverpool in May.
Till has taken to Twitter in an attempt to convince Woodley to take the bout, though the champion has yet to comment on the situation.
We will have more as it develops.
UPDATE: Till has spoken to Peter Carroll of MMA Fighting where he confirmed that he has been offered the title fight with Woodley but that the champion has turned it down.
"I don't know what's happening with Colby, whether he's injured or not, but I've been offered Tyron Woodley and he turned the fight down," Till said.
"That's what it looks like to me and I've been on the UFC's case about it. UFC want me to fight him, but he will not accept it. [UFC] didn't mention a date or anything, but that's the fight they wanted to make and he obviously isn't into it.
"I'm not too bothered about it, but I get a feeling that he thinks that nobody is worthy of fighting him for the title. I think he just wants to hold onto the belt for as long as he can. He's going to have to make a decision soon. If he doesn't want to fight me, who does he want to fight? It's just me and Colby and Colby is injured apparently, so who is there? It's a weird one, but I'm just waiting to see what happens," he said.
"Maybe he wants to hold on for the Colby fight or maybe he just doesn't want to come back — maybe he just doesn't want to fight me. There could be many reasons but I think we're going to find out what's going to happen in the next few days. I'm not thinking too much into it at the moment because I want to have more information. I just want to see what it's going to be, whether it's me fighting Woodley or if he's going to wait to fight Colby.
"He's not getting the Georges St-Pierre fight, he's not getting Nate Diaz, so who is he going to fight?"
Accept the fight mate @TWooodley

— Darren Till (@darrentill2) July 19, 2018
–
Comments
comments