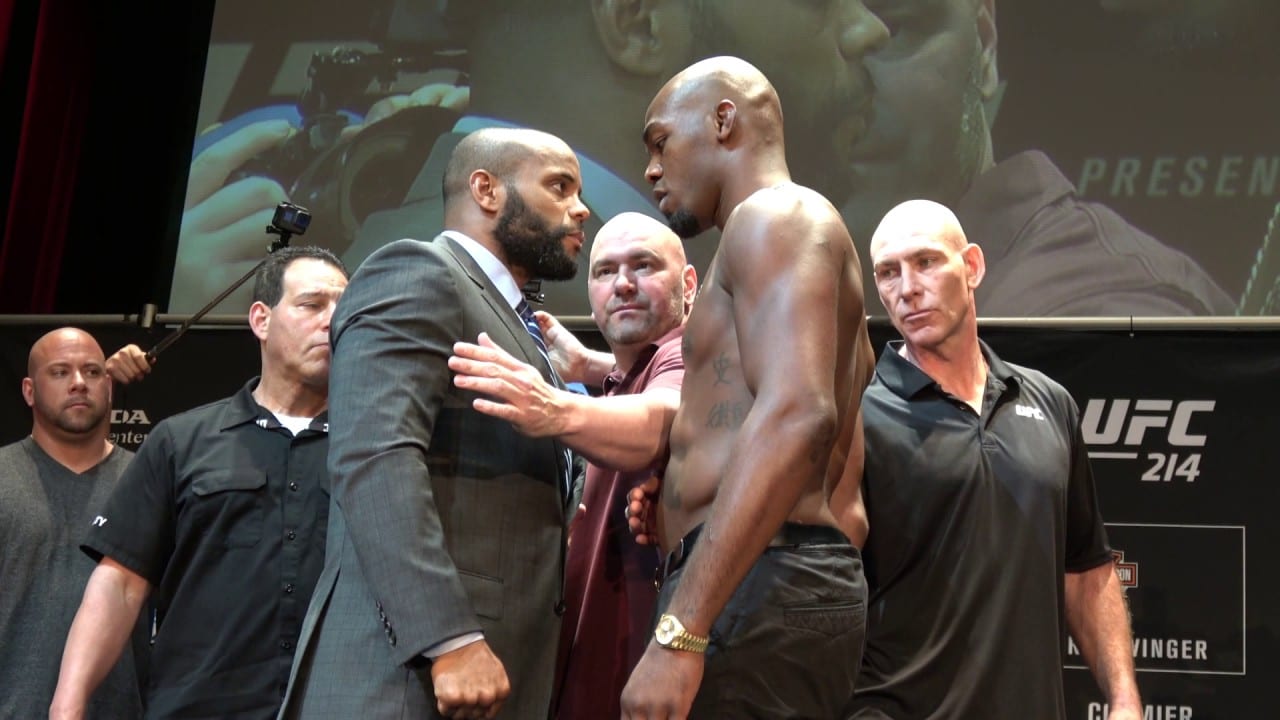 When Daniel Cormier vs. Jon Jones II takes place in the Octagon this weekend, it'll mark the latest chapter in a long and twisting rivalry that has captivated fans since its inception.
It's been a long road to get here. Injuries, drug scandals, hit-and-runs.. you name it, and it seems to have happened in order to stop these two men getting into the cage. Finally (hopefully) those controversies are over, and they'll be able to do what both want to do more than anything — beat each other — on Saturday.
What follows is a timeline of the duo's rivalry, how it started, how it got so heated and what exactly has (up to now) stopped them from fighting each other more than once in their careers.
"I bet you that I could take you down"
2010 — Daniel Cormier and Jon Jones first met seven years ago, backstage at a UFC event. It was immediately contentious.
Jones approached the Olympian behind the scenes to introduce himself, and depending on your perspective, it was the manner of that introduction that put an instant conflict between the two.
"The whole story behind me and him is just so silly," Jones told Ariel Helwani back in 2013. "I met him, and I came up to him with a big smile on my face. He's another black guy in the sport, and I felt the need to say hello to him, and I was just like 'hey man, I hear you're a great wrestler' and all this stuff, and he's like 'Yeah, yeah, you don't know who I am?' I'm like 'No I don't know who you are, but my coaches were telling me that you wrestle on the Olympic level.' And I was like 'I bet you that I could take you down.'
"It was my way of trying to develop a new friendship, and he just took it so seriously, and he was just so offended that I didn't know who he was, and from that moment on he decided that there was a beef between us. I was just trying to reach out to him at that moment, and he just decided that there wouldn't be a friendship between us.
"It's cool by me. If this guy has some kind of personal vendetta or chose to have a beef with me it's fine. It just kind of sucks because both of us being African-American guys in the sport I think we should get along and respect each other, but that's not the case."
"Wherever You Go Boy, I'm Coming"
It was Cormier who made the first public call out. After coming into the UFC as a heavyweight, DC made the decision to move down in weight to 205-pounds for two reasons. Firstly, to avoid a clash with then-heavyweight champion friend Cain Velasquez. Secondly, to meet the man cited as the best in the world inside the cage.
After hurling Dan Henderson around the Octagon like a damp flannel at UFC 173, Cormier wasted no time in making his intentions known, cutting a now legendary post-fight promo.
Things Turn Serious..
With fan interest growing, and the two clearly head and shoulders above their divisional competition, the fight was booked for UFC 128, on September 27, 2014. They didn't wait that long.
Meeting at a media day in August, Jones and Cormier approached each other onstage, before chaos broke loose. The two got too close in their staredown, and after Cormier shoved Jones' throat, Jones returned fire with punches.
It's one of the few times MMA stars have come to blows outside of competition, and probably the highest profile case of a media event gone wrong.
..Very Serious
And as if that wasn't enough, moments after the scuffle, the two continued their media obligations with a split screen interview on ESPN. While the interview was innocuous enough (Jones spent the majority of the time apologising for the violence just seen), it was what got caught on camera after that got attention.
With a cheshire cat grin on his face, Jones — believing the cameras to have stopped recording — uttered the famous line to Cormier of "hey pussy, are you still there?"
What followed was a captivating back and forth, transcribed below.
---
DC: "I'm here, I'm here. You are just the fakest person. I actually admire that you can actually be this fake, and like, when the TV comes on, how you can just change. It's like you're a chameleon. It's awesome."
JJ: "Hey, listen. I'm a professional. That fact that you're a pussy.."
DC: "It's unbelievable. It's unbelievable."
JJ: "The fact that you're a pussy hasn't changed, but I am a professional."
DC: "It's unbelievable how fake you can really be. Like, you are just such a fucking pussy. My god, it is amazing. It is amazing. But you know what, hats off to you — you've got a great P.R. person, they do a great job with training you, because you are just terrible. You're the fucking scum of the earth. You are a terrible human being, but you can sure turn it on, huh?"
JJ: "Thank you."
DC: "I wish they would let me next door so I could spit in your fucking face."
JJ: "You know I would absolutely kill you if you ever did something like that, right?"
DC: "You could never kill me."
JJ: "Oh, I bet you I could."
DC: "Then you should try, Jon. You really should try, Jon."
JJ: "I would literally kill you if you spit in my face."
DC: "Yeah, let's try that, Jon."
JJ: "I would literally kill you."
DC: "Let's try that, Jon."
JJ: "I'm not saying I would fight you. I said I would kill you if you did some stupid shit like that."
DC: "Jon, do you think I'm just going to sit there and let you kill me, Jon?"
---
Round One To Jones
After the brawl, Jones injured his leg in training, and fans were left disappointed when the contest was pushed back to UFC 182 in January of 2015. Little did they know it was only the first delay to seeing Jones/Cormier inside the cage.
But on January 3rd Jones and Cormier did meet, and after Cormier put forth a solid effort for three rounds, Jones showed his class in the championship rounds, defeating Cormier handily on the judges scorecards.
Often in MMA, fighters are seen going from fierce dislike to each other to sudden handshakes and hugs. In the immediate aftermath of Jones' victory, he proved that none of the animosity was for show.
"Everybody who bought a 'Break Bones' T-shirt, take it back, you wasted your money," Jones said post-fight. "I'm sorry I'm being classless right now, but I do not like D.C. That's why I'm being this way."
Adrenaline filled comments? Nope. In an interview an hour later, Jones reiterated his stance.
"I don't respect Daniel Cormier," he said. "I hope he's somewhere crying right now. I'm sure he is."
Cocaine, 
Catastrophe, & A New Champion
Days after Jones tasted victory, he tasted disaster.
First, news emerged of his failing a test for cocaine, putting him into rehab for a grand total of 24 hours. Then, in April, after being scheduled to face Anthony Joshua at UFC 187, the real drama begun.
Jones was involved in his now infamous hit-and-run collision, where he ran a red light and hitting a pregnant woman's car, before fleeing the scene. With legal issues mounting up, the UFC stripped Jones of his title, and inserted (wouldn't you know it) Cormier into the bout with Johnson for the newly vacant light heavyweight title.
Cormier won the fight, and the belt, before addressing the one man who mattered.
Another Delay; More Resentment
With the collision course inevitable — particularly with DC holding what Jones felt was his — at UFC 197 the rematch was scheduled again. This time, it was Cormier who ruined the schedule. After a foot injury ruled him out, Jones attempted to make up for a controversy gone by and faced late replacement Ovince St-Preux.
While Cormier wasn't able to play himself, he didn't mind trying to sway the outcome, offering to train OSP specifically to beat Jones.
Jones was, to put it mildly, unimpressed.
Willing to train OSP and is willing to pay for his expenses? You are a sheep in wolves clothing and I see right through you. pussy.

— Jon Bones Jones (@JonnyBones) April 4, 2016
"Daniel is an absolute coward who will never beat me," Jones said to Ariel Helwani. "And I say that not from an arrogant place. I say that from a place where, me getting my belt back, it means everything to me. That belt right now is a big part of my life. It means everything to me. Me losing to OSP should be the last thing that [Cormier] would want, because if I were to somehow lose, that means he doesn't get to avenge his only loss."
A Storybook Ending.. 
For a moment, it looked as if the culmination was perfect. UFC 200, a mega event rife with talent, and the promotion's latest ceremonial card. To have Jones and Cormier on top of the bill felt as if everything was going to come to a head perfectly.
The rivalry was coming to the end of it's passion, with both men seemingly growing tired of the hatred and being in each others presence. It would all finally over except..
..Denied
…Jones tested positive for banned substances around forty-eight hours before the fight. Despite Cormier begging UFC president Dana White to allow the fight to go ahead ("I'll sign a release and we can just fight" he said), the bout was scrapped.
Once again, Jones was discarded to the sidelines, receiving a one year suspension from anti-doping agency USADA. While it eventually was determined that he was guilty of negligence, not willingly cheating, Jones and Cormier were forced to put their rivalry on the backseat once again.
Here We Go Again
Now, for the fifth time, the two are scheduled to meet. If they do, it'll be for just the second time. Come Saturday night, the talking will be over and both men will have their chance at a form of redemption.
If Jones wins, it'll draw a close to one of the best and most fascinating stories in mixed martial arts.
If Cormier wins… well — then things are only just getting started.
Daniel Cormier vs. Jon Jones II takes place this Saturday at UFC 214.
Comments
comments