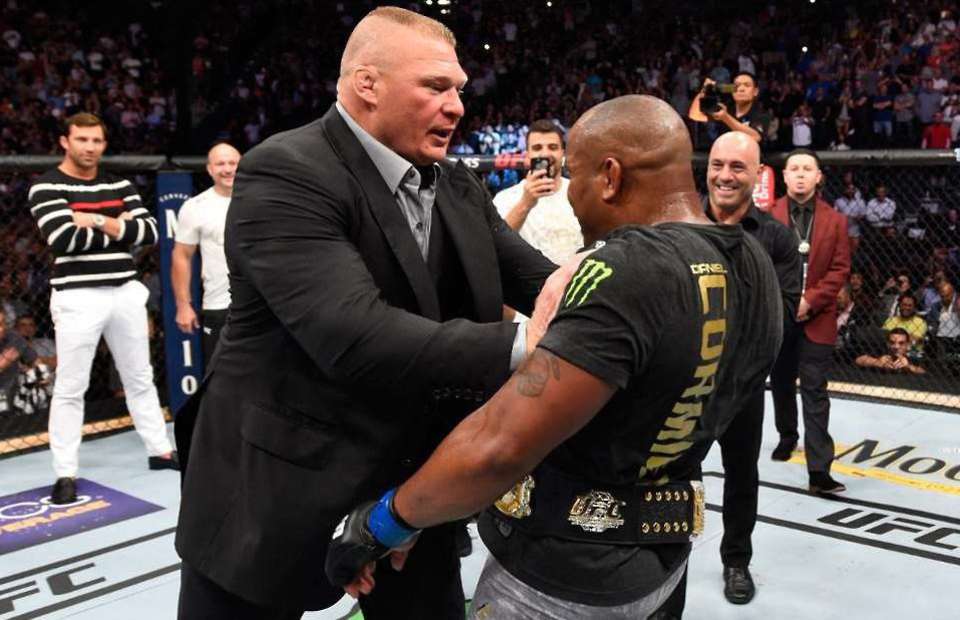 It looks like UFC heavyweight champion Daniel Cormier may get his wish.
Cormier, who is one of only a few fighters to have held titles in two different weight divisions consecutively, had intimated that he would not fight beyond his 40th birthday but with that late March date having come and gone (and Dana White having had a hand in persuading him otherwise) it looks as though 'DC' will have at least one more heavyweight title fight before he hangs up his gloves.
As reported by ESPN's Ariel Helwani, the UFC is investigating the possibility of booking an August bout between Cormier and former UFC heavyweight champion Brock Lesnar who, of course, is currently plying his trade in the WWE. Cormier, who is a noted fan of sports entertainment, has been angling for this bout for some time and had initially aimed to take the fight in early 2019, though Lesnar's WWE responsibilities didn't allow for that.
"The UFC wants (Lesnar) back, as of right now he wants to be back, they're giving him a heavyweight title fight if he comes back," Helwani said on SportsCenter.
"Daniel Cormier, the heavyweight champion, wants to fight him. Right now, the plan is for them to fight in August, later this summer, for that heavyweight championship. It's not signed just yet, but that's currently the plan."
Lesnar confronted Cormier in the cage following his heavyweight title win against Stipe Miocic last year, delivering what can only be described as a heavyweight push to Cormier but, if the rumours are true, the stage appears set for a lot more than just pushing come late Summer.
In addition to Lesnar, speculation suggests that Cormier may also rematch Miocic and arch-rival Jon Jones before finally stepping away from the sport.
Lesnar, meanwhile, has not fought in the UFC since a July 2016 bout with Mark Hunt at UFC 200 which was initially a decision win for Lesnar but later commuted to a no-contest after Lesnar failed a post-fight drug test.
Comments
comments